What do you teach? I currently teach Freshman Composition I and II at the university where I'm working on my PhD.
Are you teaching now? Yes, I'm teaching a 7 week mini-mester course, since my munchkin's due date is during the semester.
Do you like teaching? I LOVE teaching! I started the Master's in English program with intentions of making myself a better candidate for law school, but when they let me in the classroom all those dreams of a life as lawyer were gone within 2 weeks.
What's your fav part? I know that most people distaste teaching college freshman, and the past two semesters have shown me why; but more often than not freshman are exciting to teach. They are still so idealistic about their futures and most of them have not become cynics. I also like the fact that I teach at a very diverse university, and I can be a mentor for young students who may not have a lot of role models who look like them.
Has it been harder because of Baby S? Yes, I've gone through all three trimesters pregnant, so it's been much harder than usual. In the beginning, I was just exhausted all the time and my patience level just did not exist at all. Now it's harder, because he is so active and sometimes I'm in the middle of a thought and he will do a back flip and I totally forget what I was trying to convey to them in the first place.
What about when Baby S comes? Well, I will be done teaching at the end of February and he's due at the end of March. I am not teaching this summer, but I will be back in the classroom in the Fall. I plan to teach in the evenings once my husband is home from work and we may hire a baby-sitter for a few hours a day if I need to teach during the day. I am also looking into online teaching opportunities, since daycare is out of the question right now.
This first post is my way of welcoming everyone to Mamademics and taking some time to introduce myself. Some of you already know me either from my guest posts on The Celeb Mommy, real life, or various social networks, but for those of you who don't know me consider this your introduction.
Mamademics is a blog penned by Bella Rose, a wife, graduate student, and almost mommy. This introduction is two-fold: Who is Bella Rose? And why Mamademics?
Who is Bella Rose?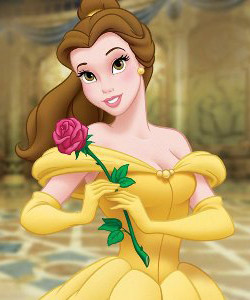 I chose Bella Rose as my pen name for this blog, because of my love for the Disney movie, Beauty and the Beast. Growing up Belle was the Disney princess I identified with the most, due to her love for books; passion for finding more in the world than her town had to offer; and her ability to find the best in someone that others saw as evil. I decided to use the Italian version of her name to "spice" it up so to speak. If you've watched the film, you know that the rose symbolizes a death clock for the Beast, and as the last petal dropped Belle confesses her love for him saving him. While sunflowers are my favorite flower, roses have a lot of symbolic meaning that I find relatable.  In general, roses symbolize love and beauty, but depending on where you look the different colors have their own meanings. A white rose is a symbol of the purity of love, and this blog will discuss my love for academics, my husband, and my future son. A red rose is a symbol of deep attraction and fondness, and of course I have a deep attraction to my husband. Finally, a pink rose symbolizes unending love, and my love for my family and academics are definitely unending.
Why Mamademics?
Mamademics is a merging of my two "careers"–motherhood and academia. I am an advanced PhD student studying Rhetoric and Composition. The majority of my life has been dedicated to achieving my academic and career goals, but since finding out about the impending arrival of my son there has been a need for reevaluation. I realized that my job as an academic will no longer be my only "career."  It's no longer my one and only focus. I am now responsible for another life and that may very well be the most important job I will ever have. This site will chronicle my life as I attempt to balance my roles as a wife, mother, and academic.
I'm starting Mamademics because I'm looking to make connections with people who are going through similar balancing acts. It is my hope that this site will eventually serve as a network to connect other women learning to balance career and family.
Overall, Mamademics is a place for mothers, wives, and/or academics to discuss our struggles and triumphs as we attempt to balance everything at once.
I hope you all subscribe and enjoy the ride!