First I want to say that this is not a sponsored post at all and Zifty has no idea that I'm actually writing this post right now.
Okay now that I got that out of the way, here's some backstory. Before I got married, my bachelorette pad was smack dab in the middle of the city and I had access to tons of different food options (walking distance and delivery). At some point, I discovered Zifty and I think they were still relatively new at that point. Once every two weeks (sometimes once a week), I would order dinner from them and make sure there was enough for lunch the next day. For someone who doesn't drive, it was a gold mine of yummy food right at my finger tips.
Well when we got married, we moved and our new area didn't have Zifty as a delivery option. We've been here about 3 years and I would randomly think about Zifty and check to see if they delivered here yet, but still no luck. So, imagine my surprise a couple Sundays ago when I saw a Zifty delivery car in our neighborhood. As soon as I got home, I checked to see if they delivered over here and THEY DID!!! Since I had been at a conference all weekend, I hadn't meal planned or made a grocery list, so I ordered dinner from them the very next Monday. I was so excited I tweeted about it and they of course responded because that's what companies do nowadays. I was planning to add them to my tricks for staying sane post when I'm overwhelmed with work, but no they get their own post today.
If you're following on Facebook, you know I'm not feeling the best today. I'm pretty sure I'm coming down with college student germs or something thanks to my wonderful students. I decided that I wasn't going to make lunch today, but I didn't want Mr. S to have to pick something up for all of us during our break, so I ordered from Zifty. Once again I tweeted them thanking them for saving me from making lunch today and this was their response: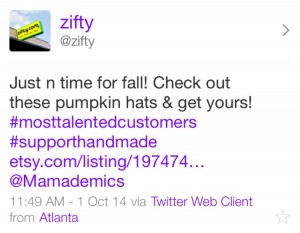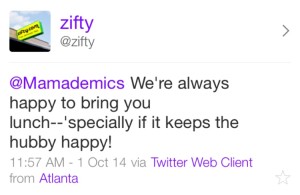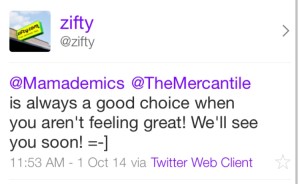 So, not only did they respond, Lance (the owner I think) went to my Etsy shop and shared my pumpkin hat on their timeline. Oh and then proceeded to order one for his nephew. Think that's all? No, he had his wife (I'm assuming) write me a handwritten thank you note for ordering from them.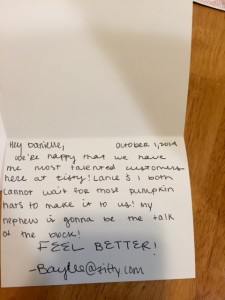 I'm pretty sure this is the best customer service I've ever received… seriously! If you're in the Atlanta area, I encourage you to check them out and let them know Danielle from Mamademics sent you!
P.S. I didn't proofread this post yet because my lunch is waiting…