Disclaimer: This post is part of an ongoing ambassador program with Simon Salt Photography. I received a complimentary photoshoot and images in exchange for this post. As always, all thoughts and opinions are my own.
It's Father's Day week and I don't know about you, but I always feel like dads get the shaft when it comes to their day. Sure there are a few good sales here and there, but there are not nationwide commercials playing pretty much around the clock for a good month prior to remind you. I never see commercials that make me want to cry and call my dad immediately after watching it, but I guess mass media still thinks men shouldn't show emotions. I'll admit I'm guilty of not always putting my best foot forward when it comes to Father's Day. I'm sure my mom friends might not like what I'm going to say, but I think it's easier to neglect men because they won't make a big stink about it and society doesn't make us feel bad for neglecting them.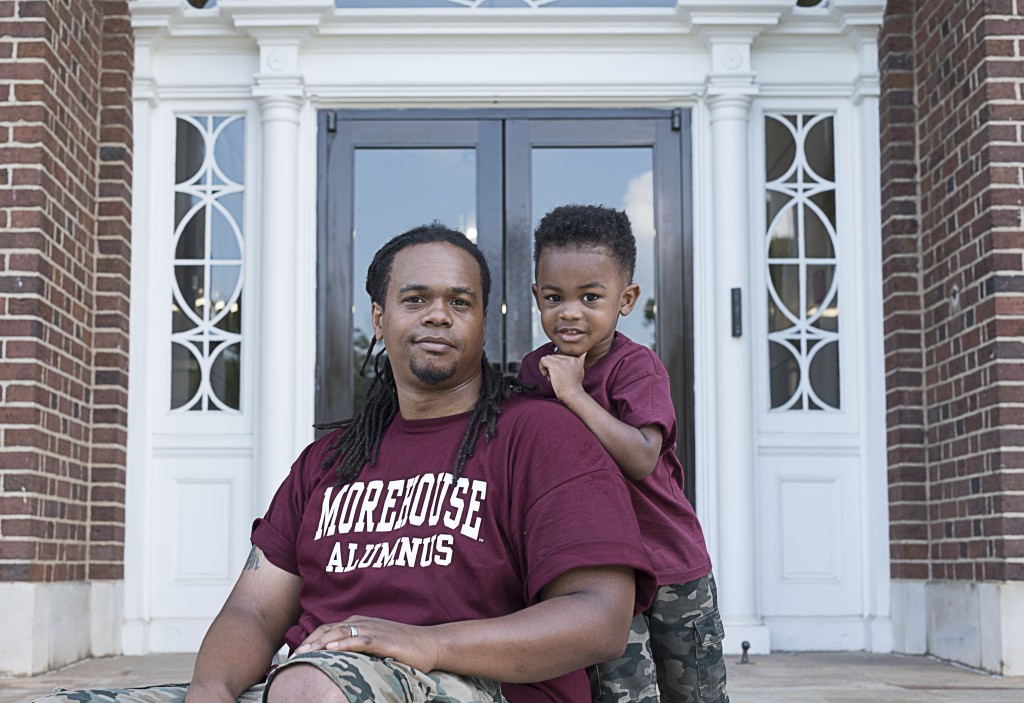 However, this year I wanted to make sure I truly showed my husband that I appreciate the work he does both privately and publicly, so when Simon asked me what I wanted to do for our first photoshoot I decided to focus solely on Sesame's relationship with Mr. S. We met up with Simon and his fiancee on Morehouse's campus on a Sunday morning and after a bit of chatting they got to work. As many of you know, education is very important in our household and not solely for the "status symbol" of degrees, but because knowledge is something that no one can take away from you. We've taken Sesame to visit our alma maters every year since he was born because this is the legacy we want to share with him. In a perfect world, Sesame will attend Morehouse College for undergrad and the University of Michigan for graduate studies.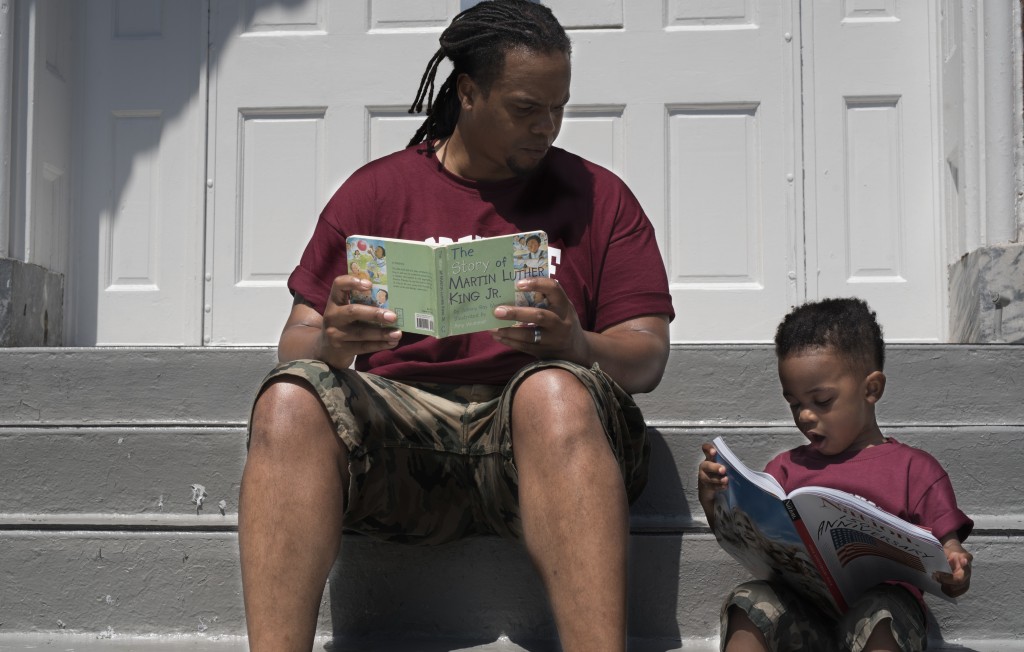 Prior to the shoot, I spoke with Simon about my desire to show a view of both the Black family and Black fatherhood that does not always make it in mainstream media. I want people to understand that there is more to family and fatherhood than the Huxtables and reality television portray. After voicing those concerns, Simon suggested doing mirroring images with the two of them, which led to probably my favorite pictures of the entire session.
Initially, he asked me to bring a board book and the Wall Street Journal, since we don't have a WSJ subscription and we were going to be on Morehouse's campus I suggested using The Nation magazine. I included Sesame's board book on Dr. Martin Luther King Jr. because two iconic aspects of social justice in one picture on a historic campus seemed like too good of an opportunity to pass up. These are also examples of small things we do in our home to expose our son to both social justice advocacy and his history. His bookshelves and ours both contain historical figures and moments. It is not uncommon to find him sitting on the floor browsing his books and I've caught him on more than one occasion flipping through books in our home office.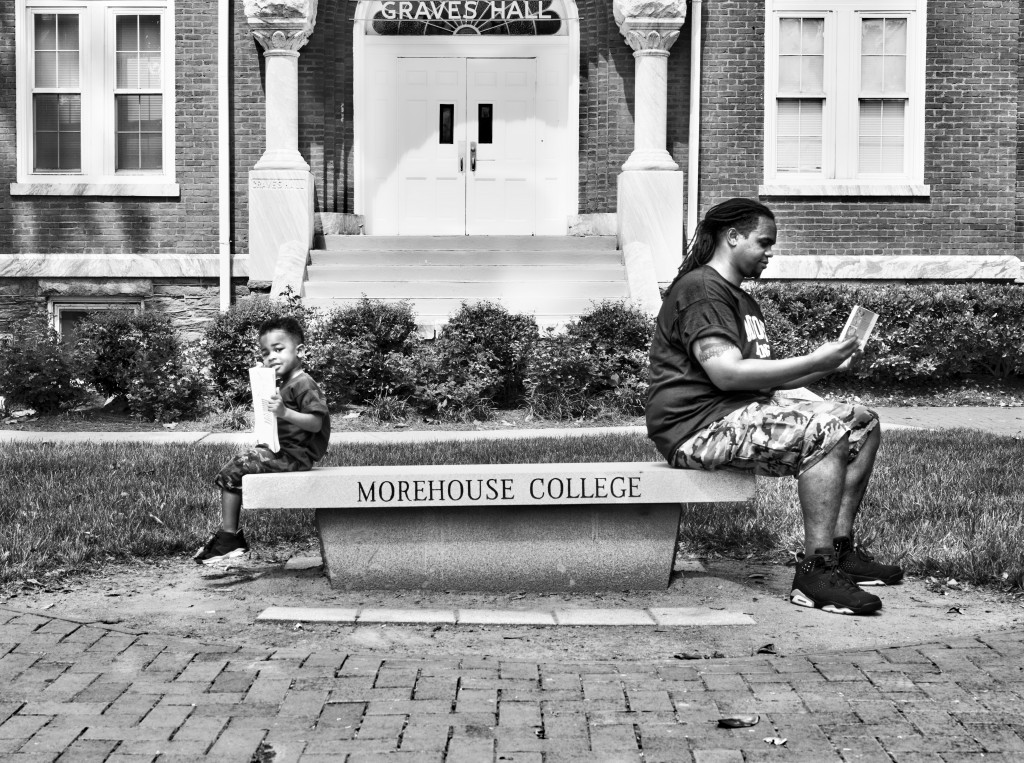 When I first saw this image, I teared up because in 15 more years this campus may very well be his new home. He will take pictures on these benches hopefully with books in tow. The only thing that would've made this picture completely perfect is if you could see the infamous towers that appear on the Morehouse logo.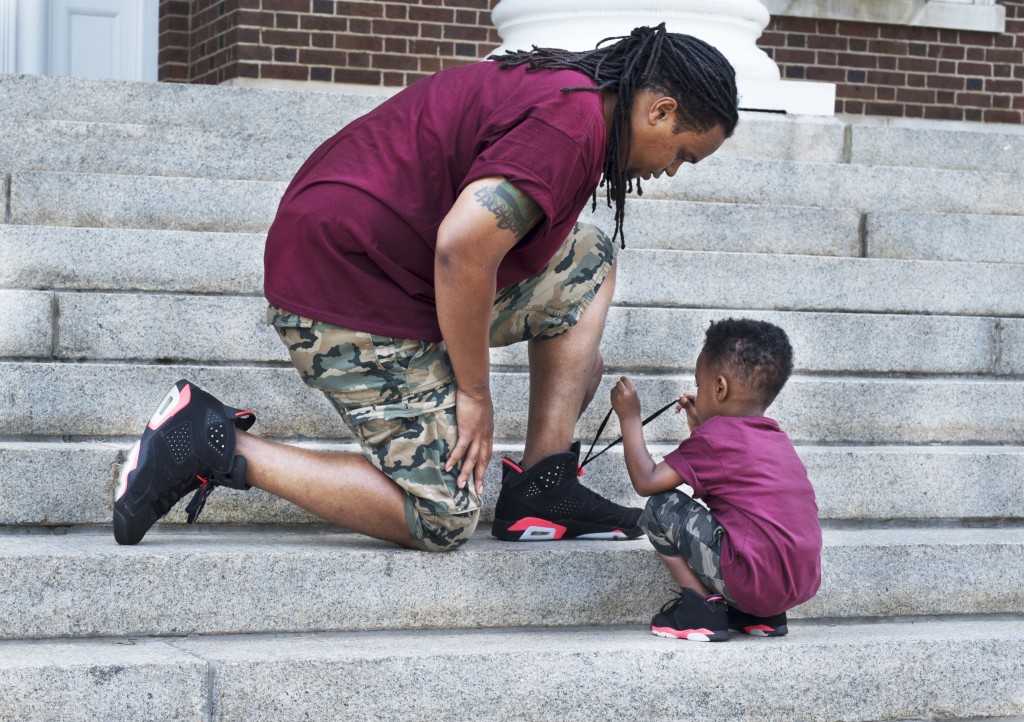 This image was totally Simon's idea and not something I would've considered at all. Instead of Mr. S tying Sesame's shoes, we see Sesame trying to do it for his dad instead. Each mirroring image represents the activities that take place in our home.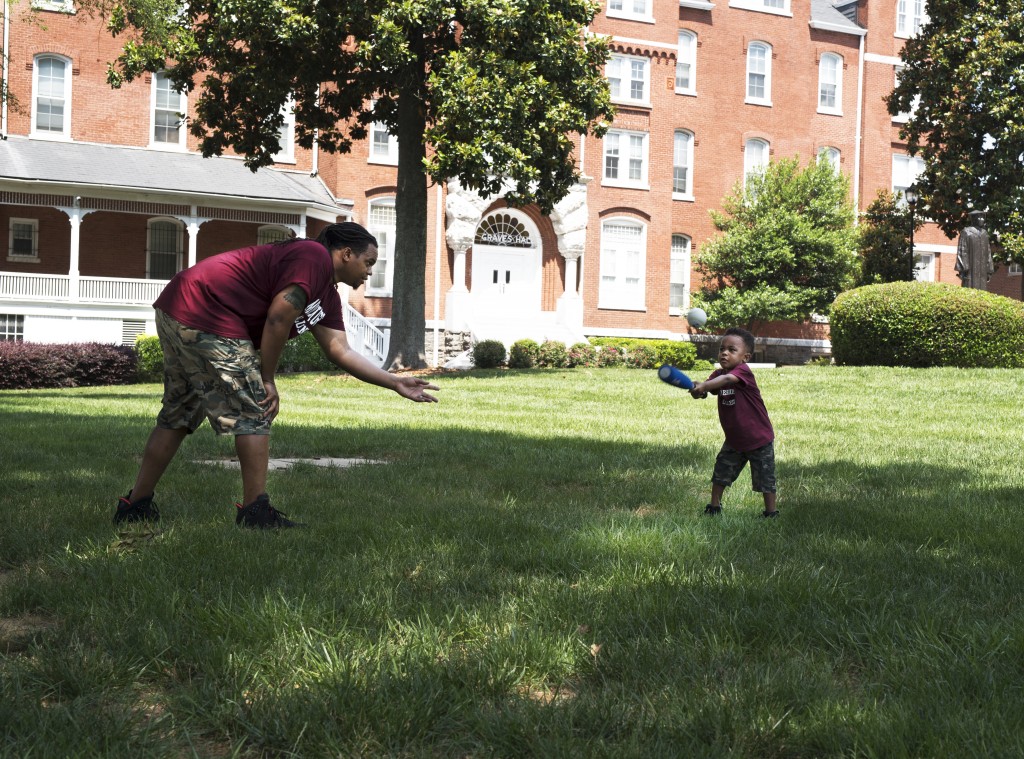 In addition to the mirroring images, I suggested showing the two of them doing a "typical" father-son activity involving sports. You all know that Sesame played soccer this past spring, but he has started showing an interest in baseball as well. I love that you see not only Graves Hall in the background, but also the determination on Sesame's face and pride on Mr. S's. Overall, I am incredibly pleased with the images that Simon captured and I can't wait for our next shoot.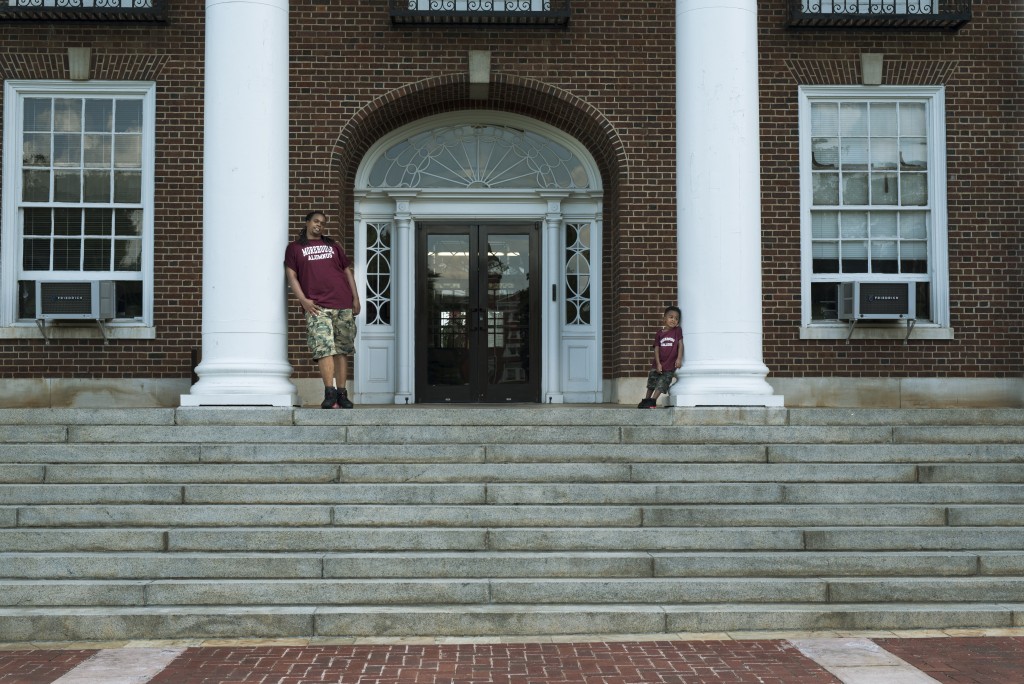 About the Photographer: Simon is an Atlanta based Family, Senior and Maternity Portrait and Fine Art photographer. His work has been published nationally and showcased in several local art shows. Cabbagetown Neighbor calls his work "quirky, quaint, and quizzical." You can view more of his work on his site Simon Salt Photography and follow him on Facebook, Instagram, and Pinterest.
Let's chat in the comment sections about your thoughts on these images, the view of fatherhood in America, and what part of our life you'd like to see in the next shoot.