Five Elementary Age Books To Read When School Starts
Back to school season is in full swing. In addition to learning, they're making new friends and dealing with personality differences and/or conflicts. For many of them, this is likely the first time they'll interact with children who are different from them in various ways.
This post contains affiliate links. I receive a small commission if you purchase through these links.
Here are five books to read with them to help them navigate these new emotions and dynamics.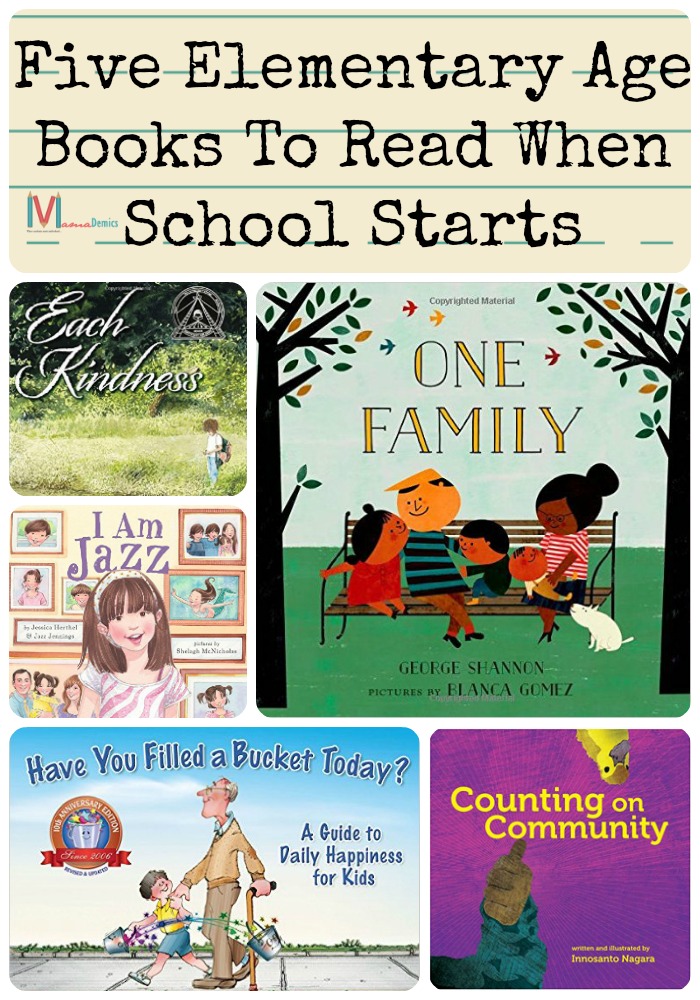 Have You Filled A Bucket Today?: A Guide To Daily Happiness For Kids by Carol McCloud (Preschool and up)
We all know that children need love but how do we teach them the importance of loving others? This book uses an invisible bucket as a way to teach them the ways their behavior can fill or empty a bucket. It encourages them to show kindness to others, as well as, how to discuss the ways someone else's behavior makes them feel.
Be sure to model this behavior by talking to them about the ways you filled a bucket that day. Before long your little one will look forward to telling you how many buckets they filled during the school day.
Counting on Community by Innosanto Nagara (Toddler to Preschool)
A short board book that uses counting as a way to discuss the importance of building community. The text takes place in an urban neighborhood where images of sidewalk chalk and working in community gardens. Little readers will find the lyrical text entrancing while they search for the duck on each page. Nagara makes sure to include racial and ethnic diversity throughout so that the community looks like the real world.
One Family by George Shannon (Preschool to Grade 2)
What does a family look like? This interactive book uses counting to show how families vary in size and are comprised of different genders, ages, and races. Little readers will see families that look different from their own but who all participate in familiar activities like doing laundry, baking cookies, and going to the zoo.
I Am Jazz by Jessica Herthel (Preschool-3)
If you're looking for a way to discuss transgendered people with your children, this book is a great start. It's based on the real life experiences of Jazz and helps children understand the concept of being born into the wrong body. Popular actress, Laverne Cox had this to say about the book, "This is an essential tool for parents and teachers to share with children whether those kids identify as trans or not. I wish I had a book like this when I was a kid struggling with gender identity questions. I found it deeply moving in its simplicity and honesty."
Each Kindness by Jacqueline Woodson (Grades 2-5)
It's tough being the new kid at school and is certainly harder when you don't wear the "right" thing. Woodson uses a diverse rural classroom as a backdrop for the complicated ways that economic privilege results in bullying amongst students.
Chloe and her friends make fun of Maya, the new girl, by calling her "Never New" because her clothes are always secondhand. They rebuff Maya's invitations to play and then one day she leaves the school because her family has to move. After Maya's move and a teacher-guided activity involving a pebble being thrown into the water, Chloe is forced to consider her actions and if she was ever actually nice to Chloe.
A story of remorse and lost opportunity, opens the door to talk to our children about kindness and why bullying is wrong.
I hope these five books help you and your children adjust to the new school year. Be sure to check out the Social Justice Kids section in the Mamademics Book Shop for more suggestions. If you're interested in learning more about social justice advocacy, sign up for one of Raising an Advocate's open courses.