Everyday Ways To Teach Black History: LEGO Sets
This post contains affiliate links. I receive a small commission when you purchase through the link.
When I first started Black History is American History, I wanted to make sure that the curriculum used more than books to engage our children in learning about different topics. I challenged myself to come up with ideas that incorporated everyday toys. From games to Play-Doh to LEGO sets, teaching children about Black History is no different than introducing them to other school subjects. You just have to find a way to engage them.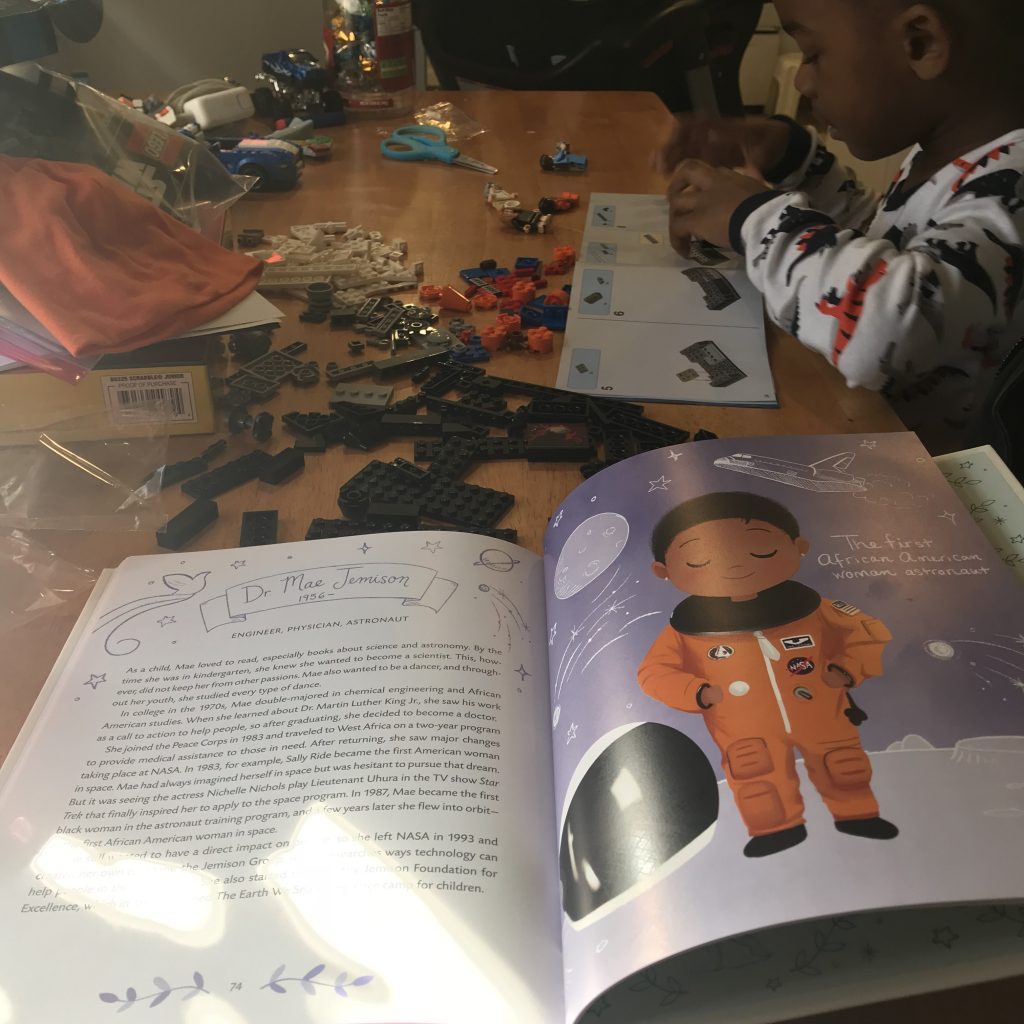 This month, I'm going to share a few everyday ways to incorporate Black History lessons into your everyday life. First up, LEGO Sets. Like many kids his age, Sesame is really into LEGO SETS. He's been playing with them since he was 3 and has become quite the architect.
Without further adieu, here are three topics that you can use LEGO sets discuss Black History.
Aviation – Bessie Coleman
Bessie Coleman was the first Black woman to receive a commercial pilot's license. I introduced Sesame to Bessie Coleman last year during Women's History Month. While he worked on building his very first LEGO airplane, I read him Fly High!: The Story of Bessie Coleman and we discussed her contributions to Black History.
LEGO has several different airplane sets for different age ranges starting from the Duplo on up. We started with the airplane above but if your child is younger than 5 or still interested in eating the LEGO pieces, I'd recommend starting with this set here.
If your child is really into planes, you'll be able to reinforce the Black History lessons each time they start a new set. We've been able to talk about Bessie Coleman multiple times as well as Janet Harmon Bragg.
NASA – Mae Jemison
If you've followed Mamademics for a while, you know that Sesame is really into astronomy and learning about space. I've used lots of different books and activities to both encourage his love of astronomy but also to introduce him to people who look like him in the field. The most recent item I used was his Women of Nasa LEGO set.
It wasn't our first time talking about Mae Jemison. He actually learned about her for the first time just before he turned 4. However, this time he was really interested in the person who has a Lego mini-figure in their own image. I read to him from 
Little Leaders: Bold Women in Black History
and to my surprise, he said he wanted to know more, which led to us reading 
Mae Among the Stars
and we'll be reading 
Mae Jemison (You Should Meet)
 later this month.
If you can't find the Women of NASA LEGO set, you can use the LEGO Creator Space Shuttle set instead.
BONUS: 
The Women of NASA LEGO set will also come in handy when Women's History Month rolls around.
The Montgomery Bus Boycott
I've briefly talked to Sesame about the Montgomery Bus Boycott during a visit to the Henry Ford Museum a few summers ago. This year I plan to go a little further teaching him about the boycott and the history of segregation in this country.
I'll be using the following LEGO Set as well as some of his mini-figures to help him understand. While he builds, I'll read him I Am Rosa Parks and prepare myself for answering the hard questions he'll have.
I'm also eyeing this LEGO Duplo set for the future when I introduce Rosa Parks to his little brother in a few more years.
Which set do you plan to use first?
If you're looking for more ways to teach your children about Black History, be sure to check out Black History is American History and purchase the curriculum for your children 6 and under. You can also sign up for the 7-12 curriculum below: