After School Snacks Lead To After School Chats
This post was sponsored by Nabisco as part of an Integrated Activation for Influence Central and all opinions expressed in my post are my own.
Every since Sesame started Kindergarten it feels like I have less time to really talk to him. When I ask him about school or his day, I tend to get one-word answers or he's just not really interested in talking at all. Part of this is because I had his baby brother five days after Kindergarten started but the other reason is he's in all-day school now and often stays later with Mr. S to wrap up the day. When he comes home from school, I'm usually taking care of his baby brother so I can't give him my undivided attention.
I know that Sesame misses spending alone time with me because he's old enough to tell us (and his teachers) that he needs more "mommy time." I totally get it because I miss our mommy-son time as well. I know from his first two years of school that our random alone times are when I get the most information out of him. So, a couple weeks ago I surprised him with a solo shopping trip. We went to Walmart for some necessities including a new after-school treat, TEDDY SOFT BAKED Filled Snacks.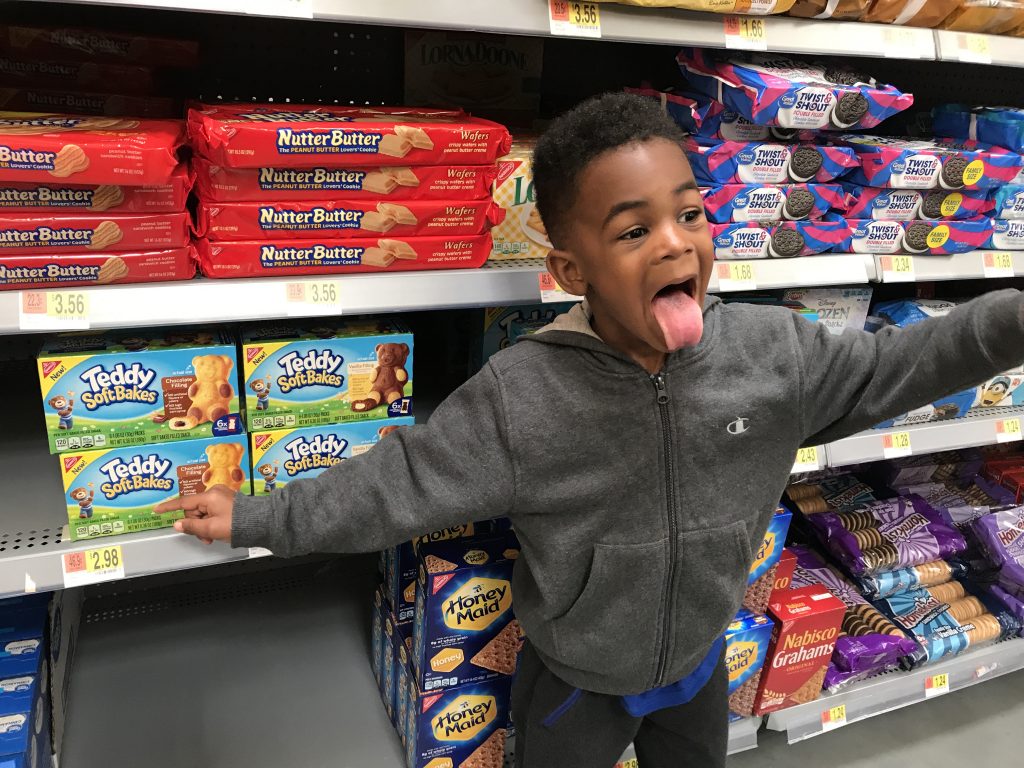 Sesame had already seen the commercial for these treats so he was excited to help me on the quest to Discover Teddy in the cookie/cracker aisle of Walmart. I was excited to get more details about how he was really feeling about Kindergarten. The cookie/cracker aisle is closer to the back in our Walmart, which means we were able to chat a bit before finding the snacks. During that walk, I learned about his favorite teacher and favorite specials class.
He's in the early stages of learning to read and of course, he wanted to practice those skills once we found them.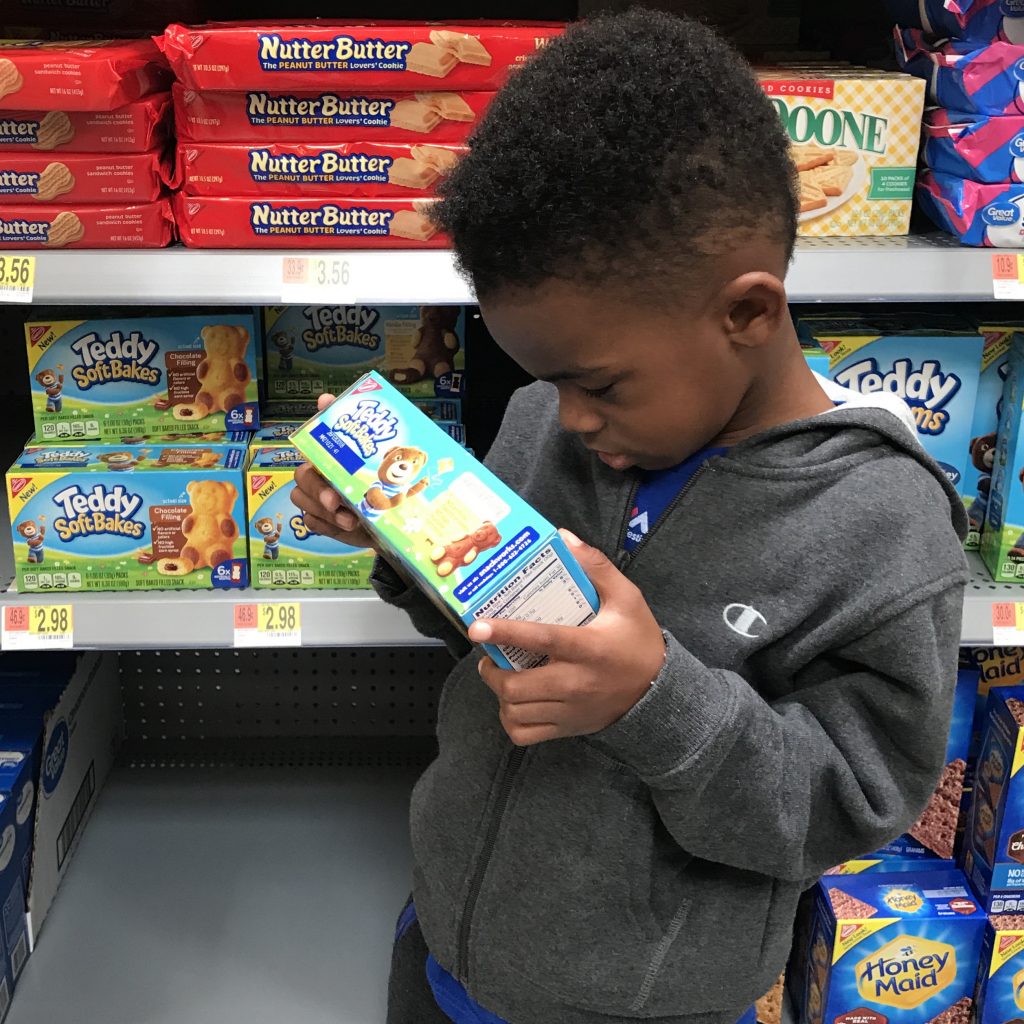 I enjoyed our chat so much that I decided to try and keep it going by setting up an after school snack for him last Monday. Having a newborn means that I have less time to make cute after school snacks but TEDDY SOFT BAKED Filled Snacks are perfect since they the cute bears are already made for me. All I had to do was grab the packs out the box, pour a glass of milk, and add some strawberries left over from my lunch.
As soon as they walked in the house, I handed Blueberry to Mr. S and sat down at the table with Sesame for his snack.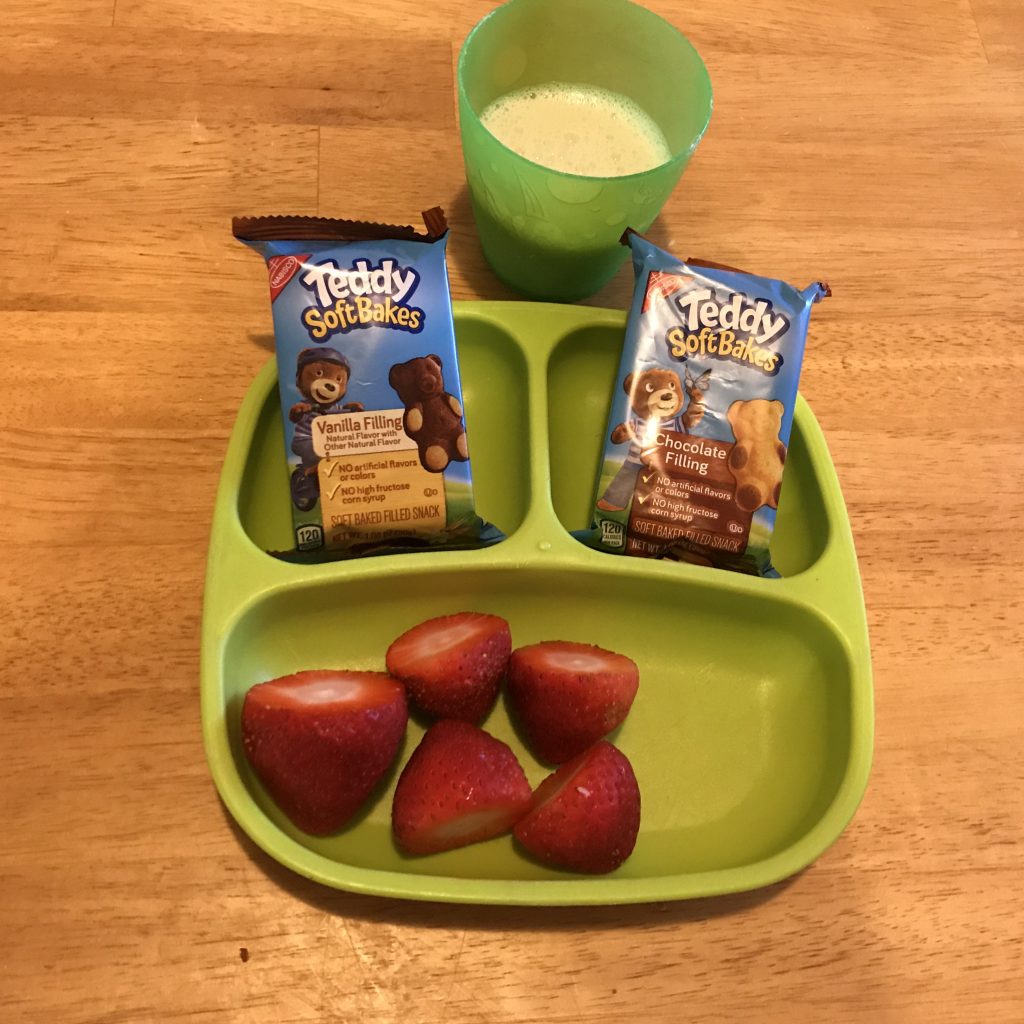 Our conversation went from which of the TEDDY SOFT BAKED Filled Snacks is his favorite – chocolate w/ vanilla filling to why STEAM Lab his favorite specials class. We also spent a little time talking about how he's adjusting to both all-day school and big brother life. He loves both but admitted that school is "lots and lots of hours" and he "misses mommy time."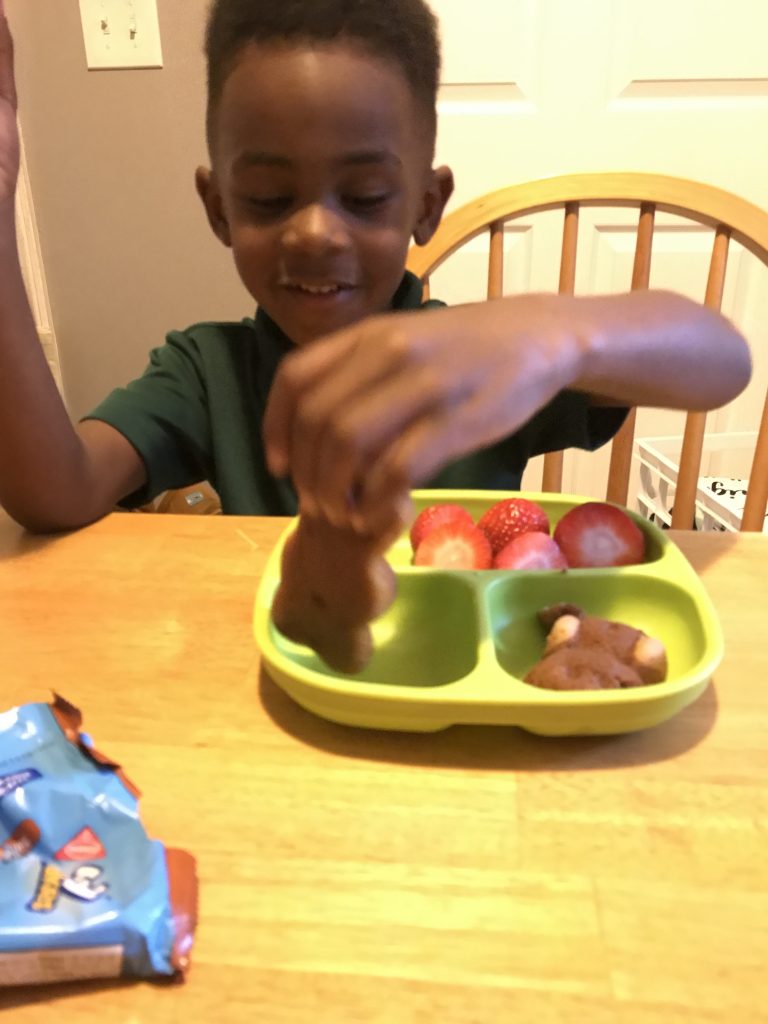 It was so nice to have an after-school chat with him that didn't involve me shushing him or saying "hold on" as I tried to calm the baby. The fact that I was able to treat him to a snack that included no high fructose corn syrup or artificial flavors and colors was an added bonus. As we continue to adjust to our new reality, I'm definitely planning to make sure I sit down with him during his after-school snack at least twice a week.
These snacks are also perfect for eating on the go, so you can chat in the car after school and not worry about having a hangry little one. My husband likes to grab them for the days he knows he'll have to keep him later after school.
Do you have any other tips for helping a mom and son adjust to less just the two of us time? Be sure to discover TEDDY SOFT BAKED Filled Snacks at your local Walmart. They might just help you have a great after school chat with your little one. Enter the contest below for your chance to win a Walmart gift card.
I-C will randomly select 14 winners from all program entries and will facilitate fulfillment of the winning prizes.
Nabisco Snacktime Sweepstakes