Audible Helps Me Read More
This is a sponsored conversation written by me on behalf of Audible. The opinions and text are all mine.
One of my goals for this year included reading more books for fun. It's no surprise that my reading over the last few years has focused mostly on academic reading with parenting books thrown in there. However, I miss getting lost in a good novel without feeling guilty that it's taking away from my academics or the time I should be spending working on a crochet project for my Etsy shop.
Earlier this year, a friend suggested that I try out Audible. I was definitely skeptical but after listening to my first book, Queen Sugar, I immediately fell in love with the service. I was able to listen to a novel over the course of a week or so while folding clothes, working on crochet projects, or making dinner. It was seriously a multi-tasker's dream. Since then, I've started The Outlander series and even downloaded books I've already read but would love to read again one day, like Harry Potter, Little Women, and Anne of Green Gables. They also have children's books, which comes in handy when I'm looking for a way to calm Sesame down.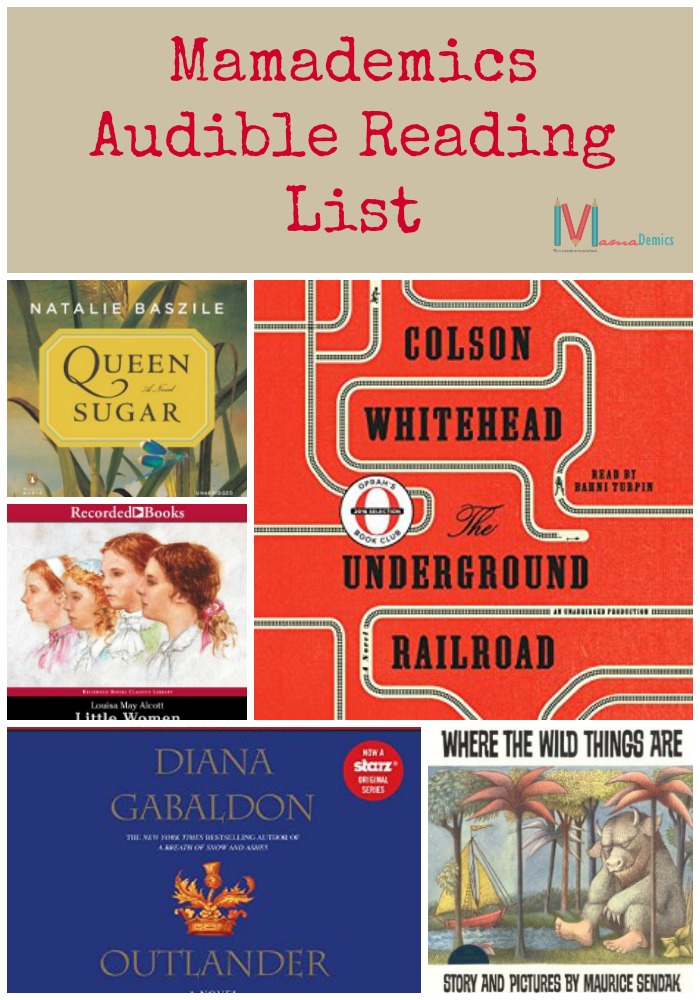 If you're on the fence about trying out Audible, sign up for their one-free month trial offer here. Don't know what book to choose? Here are five books on my Audible WishList or in my Library .
The Underground Railroad: Written by best-selling author, Colson Whitehead, this novel follows Cora, a young slave's quest for freedom in the antebellum South. We follow her on her journey through the underground railroad as she attempts to change her story. Whitehead seamlessly weaves a narrative that covers the saga of America from the brutal importation of Africans to the unfulfilled promises of the present day. Bonus: It's the newest addition to Oprah's 2016 Book Club list.
The Outlander series: Historical fiction with a mix of time travel and romance makes for an amazing series, as the author follows former World War II combat nurse Claire Randall. It all starts on a second honeymoon with her husband in 1945 and gets pretty complicated when she's transported to 1743 Scotland. The series is pretty long but if you're like me and want to know what happens in the books before watching the show on television, listening on Audible is a great alternative.
Queen Sugar: This mother-daughter story follows Charley Bordelon, an African American woman who inherits a sugarcane farm in Louisiana. She has no idea why her late father left her 800 acres but she uses it as a chance to start over with her 11-year-old daughter, Micah. Follow them as they deal with old secrets and battle the cultural shock of leaving Los Angeles for Louisiana, a town still mired in the past.
Little Women: This classic by Louise May Alcott offers you the opportunity to relive the joys and hardships of the four sisters in Civil War New England. This one is on my holiday break listening list. I'm planning to curl up with a cup of tea and a crochet project.
Where The Wild Things Are: You can't go wrong with this children's classic. Set it to play through speakers and watch the look on your child's face.
Are you a fan of Audible? If so, what's your favorite book?
If you haven't tried Audible yet, what's stopping you? Let's chat in the comments… Remember you can try them free for 1-month here.