This post is a follow-up to last week's open letter to Barnes & Noble. It's a letter that I'm sending directly to Barnes & Noble.
Dear Barnes & Noble,
On Wednesday, February 10, 2016, I went into my local Barnes and Noble in Atlanta, GA (Edgewood Shopping Center). I walked into the store with the intent to purchase Black History Month books for my son and myself. I have a gift card from Christmas and I saved it specifically for Black History Month. I was also hoping to find some new books to share with my readers since many of them have requested ideas for adding Black History to their bookshelves. However, I couldn't find the displays, after asking a clerk for assistance I was led to an end cap in the adult section or "bookend" as I like to call them. The clerk noticing the look of disappointment on my face also showed me the African American non-fiction section. After snapping a few pictures, I walked out of the store and did not purchase anything despite having a gift card.
While finishing my other errands, the lack of a large Black History Month offering in a nation-wide bookstore really started to weigh on me. So, I did what I do best. I came home and I wrote about it. I then recorded a video on Periscope about my experience and asked my friends and followers if my store was just lacking or if this was happening all over. I asked them to send me in pictures of their displays and to use the hashtag #BHMDeservesMoreBN on social media.  I spent a few hours the rest of Wednesday looking through your main website, BNReads, and social media accounts. I wanted to make sure that this was not just an oversight in my store, but an actual issue on a larger scale. What I found was even more upsetting, not one of your top picks for February featured an African American writer nor did any of your social shares feature posts about books to buy during Black History Month. I did notice you shared a post on social media about Marley Dias and her campaign for 1,000 Black girl books. I found this a bit ironic considering your store failed to take the time to create a display and I said this in the comments section. I also noticed that you shared a book list for children on your BNReads kid's section, which I shared with my followers while asking your store if you intended to do more and why these books were not prominently displayed in the children's section.
On Thursday, February 11, 2016, I received the following email from your spokesperson, Mary Ellen Keating: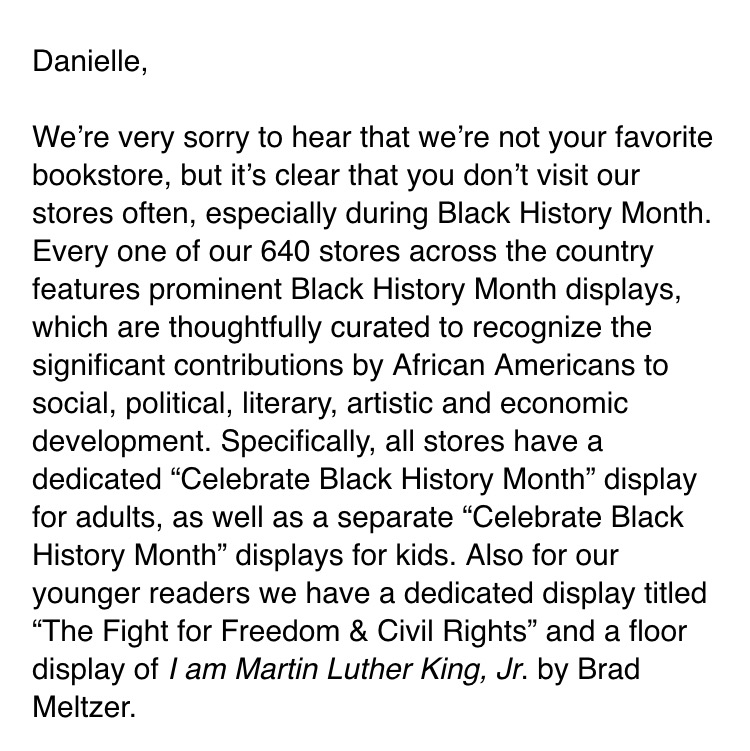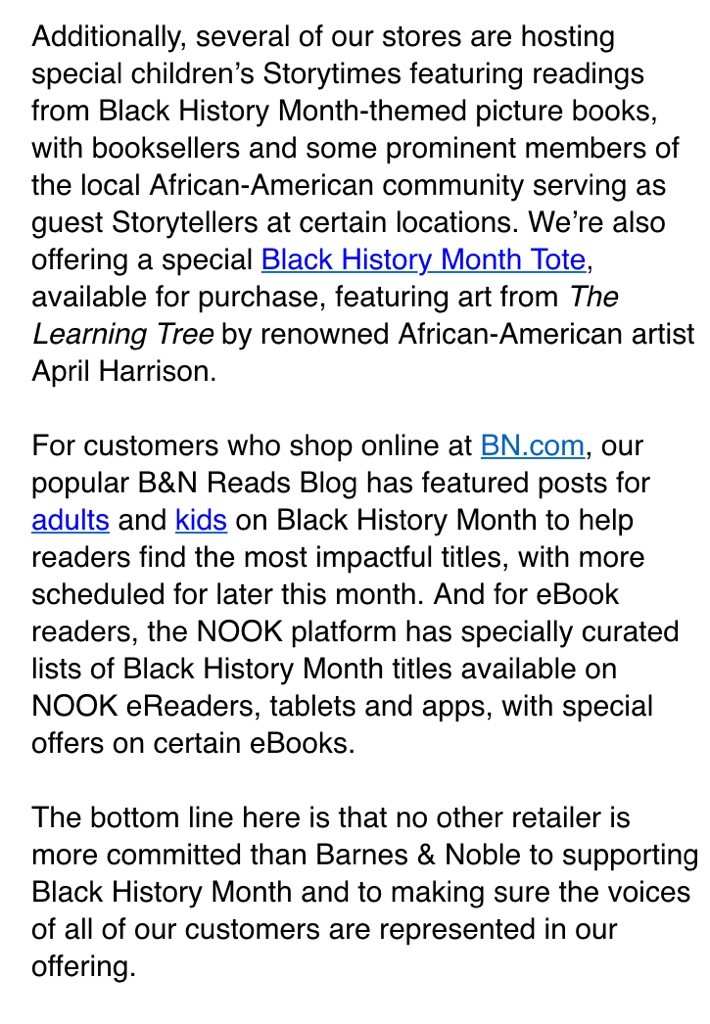 Not only was your spokesperson rude and dismissive to my concerns, she also failed to pay attention to the fact that I am well educated and have a large social media platform that I use to promote social justice advocacy in parenting. Ms. Keating also seemed to miss the part where I said that I make it a point to go into Barnes and Noble during Black History Month and even shared the titles of texts I've found prominently displayed in the past.
At the time, I decided to refrain from responding to Ms. Keating because I wanted to give myself time to collect more information before writing a response. The first step was returning to the Edgewood location and recording a live video. As you can see from my video, I was upset after reading the email from Ms. Keating due to her brash tone.
After I recorded my video, I pushed my friends to do the same, so that we could have a small sample size of your locations. In the last week, I've collected images from 29 of your stores across the country. Of the 29 stores, two did in fact have a "prominent" display in their children's section and one of those same two had one in the adult section. You can see these images on my social media accounts or by searching the hashtag #BHMDeservesMoreBN. I've also shared this album on your Facebook Page here.
Many of the stores had no displays at all or only one book in the children's section. The clerks from the stores were confused when people inquired about the displays because why would they have a Black History Month display up in the middle of Black History Month? Many of them admitted that there were no plans for a larger display or a display of any kind, despite the feedback I received from Ms. Keating. What they did find were large displays for Valentine's Day, which is only one day and not the entire month; they also found large displays for Harry Potter, Star Wars, Pete the Cat, and adult coloring books. Now I love all these things just as much as the next person, but I also love Black History.
At a time when our country is experiencing obvious racial divides and tension, it is even more important that we honor the contributions of African Americans to this country. Books are the windows to new worlds and offer people the chance to understand experiences they will never actually have. While it is discouraging that I have to search your shelves for books that represent my family's heritage, it is even more disheartening that you do not use your platform to educate those who for the other 11 months of the year have the privilege of their history being prominently displayed throughout your store. Maybe you do not think there's a market for Black History Month, but I beg to differ. I regularly receive emails from parents and educators of all ethnicities inquiring about where I purchase books for my son, so that they can make sure their child's bookshelves are reflective of the world in which we live. I even jokingly told some of them that Barnes and Noble will definitely have them out during Black History Month if you want to go in the bookstore instead of ordering online.
Maya Angelou once said "Won't it be wonderful when Black history and Native American history and Jewish History and all of U.S. history is taught from one book. Just U.S. History." We have not gotten to that point yet because Black History and Native American History and Jewish History are still taught as electives in schools. Our histories are still mitigated to special occasions and now even those occasions are ignored in national retail bookstores.
As I stated in my initial letter on my website, it is not too late to correct this mistake. There are still 10 other months left in the year and you can always make sure you're adding diversity to your displays. March is Women's History Month and there are many women of color who have contributed to the Women's Rights Movement, so make sure your display reflects their contributions. It is also Youth Art Month, so your children's display can reflect the contributions of all artists including artists of color. The Harlem Renaissance is a great place to start from the African-American lens.
Best,
Danielle Slaughter
P.S. I'm not sure how much diversity you have in your board room or amongst your book buyers, but it's probably time to consider hiring people who have a different American experience than the ones we learned about it in our history books.
2017 Update — Check out the new Black History Is American Curriculum (click the picture)