Black History Month is coming to a close and that brings me to the end of my Black women writers you should know showcase. I missed last week's post due to having a sick little one, but I'm not going to cheat you out of learning about someone new. Instead of one author, this week I'll introduce you to two– Bebe Moore Campbell and Dr. Calaya Reid/Grace Octavia.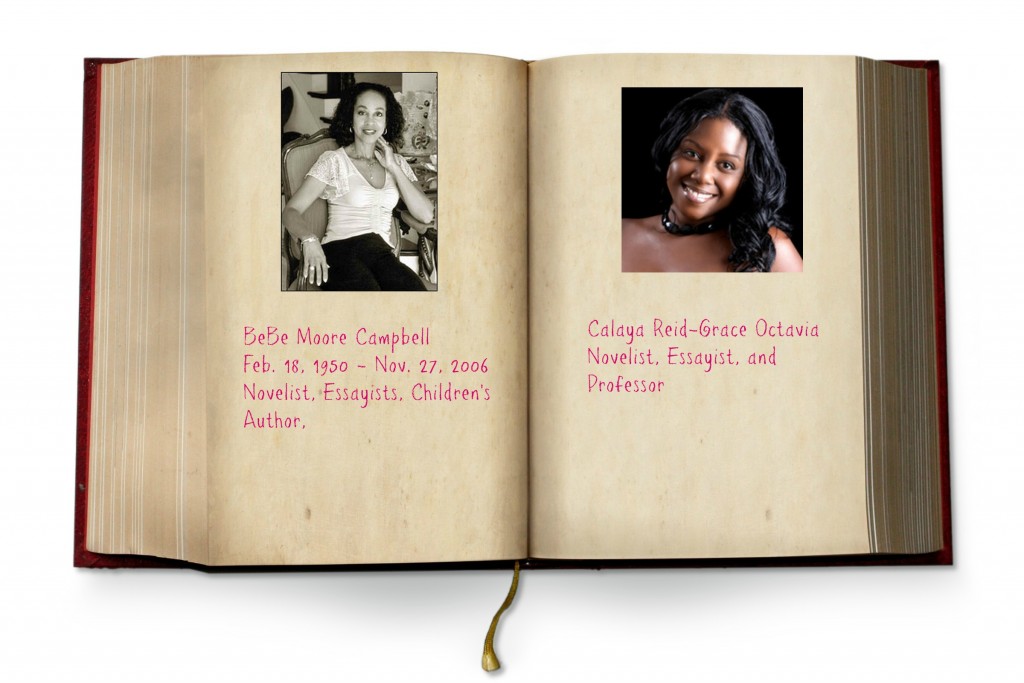 BeBe Moore Campbell was born in Philadelphia, PA where she attended Philadelphia High School for Girls and the University of Pittsburgh. Campbell earned a degree in Elementary  Education and went on to teach in Atlanta, GA. While in Atlanta, Campbell took a writing class taught by Toni Cade Bambara and her childhood love for writing was reborn. Her first short story was published in Essence Magazine in 1967 and after subsequent rejections she went on to become a frequent contributor to the magazine. Her success at Essence helped her become a prolific fiction and non-fiction writer. Campbell published two children's books, two non-fiction books, several essays, and five novels (three of which became New York Times best-sellers). Campbell passed away in 2006 from complications of brain cancer.
Now why should you read her work? Not only is she a phenomenal writer, but she also uses her voice to talk about mental illness in the Black community. My favorite novel, 72 Hour Hold, talks about the struggles of parenting a child who has been diagnosed with bipolar disorder. Her novel was the first time I remember being exposed to the idea of mental illness as a reality in the Black community. While mental illness is certainly stigmatized in American culture in general, it is something that is almost never discussed in the Black community. I highly recommend her work (affiliate links below).

The last author I chose to cover in this series is one that I've had the pleasure of meeting in person. Dr. Calaya Reid or as she's known to her fans Grace Octavia is a native of Westbury, NY and a graduate of New York University, University of Georgia, and Georgia State University. She published her first novel, Take Her Man, while pursuing her doctoral degree at Georgia State University. Reid has written eight novels under the Grace Octavia pen name.Her work has also appeared in Sisterfriends by Michele Agins and Julia Chance and Rolling Out magazine, where she was Editor-in-Chief. Reid currently teaches budding scholars at Spelman College in Atlanta, GA. GoodReads classifies her work as romance, but like Beverly Jenkins her work delves so much deeper. While romantic relationships are often the center of her novels, she also focuses on familial relationships and friendships; and all the complications that are present. Her characters are multi-dimensional and make you want to reach through the pages to hug them (or strangle them).
I was first introduced to Reid's work while tutoring in the writing studio at Georgia State. One of my colleagues at the time told me about a new novel that one of her friends in the creative writing program had written. I think we were talking about my desire to read contemporary fiction with Black female characters I could relate too. That's when she told me about Octavia's first book, Take Her Man. I decided to give it a try and ended up loving the book a lot and was disappointed that it was the only release from her at the time. I often saw Reid in the hallways of our department where we would give each other the "keep hope alive" smile and nod, but because we were in two different programs I never had class with or even spoke to her in person until she graduated. I think during my pregnancy I ended up looking for something "light" to read again and somehow came across her novel, His First Wife. I devoured it and ended up messaging her on Twitter after reading Something She Can Feel. She sent me an autographed copy of her latest novel at the time, What He's Been Missing and I finished it in less than two days. Last school year I ran into her in a coffee shop and I was afraid to speak, but she came right over and asked me about my little one. I later found out we share the same birthday (Virgos are AWESOME). While our paths haven't crossed recently, I'm hoping to join her on the AUC's campus when I finally graduate. I sound like such a groupie/fangirl right now lol. Anyway, check out her novels below (affiliate links below)
This is the last post in the series for this month, but I hope you've enjoyed learning about Black women writers. Remember to enter the giveaway to win one of Beverly Jenkins novels (ends February 28th at midnight).