Social Justice Gift Guide: Put Your Money Where Your Mouth Is
After the 2016 Presidential Election, so many of us started talking about the changes we wanted to make in our country to protect marginalized groups. Well now is the time to put your money where your mouth is and support those who are doing the work of social justice.
This list is certainly not exhaustive but I've tried to cover a wide range of social justice causes and activists who are still at the starting points in their respective organizations.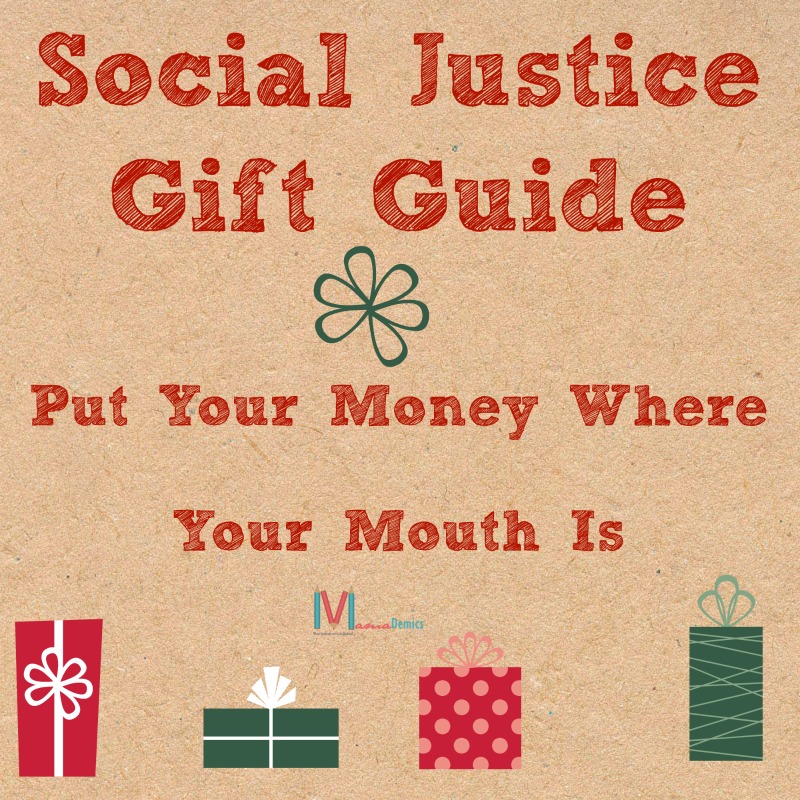 Pick a cause and donate money to support…
Education
Assata's Daughters is an intergenerational organizing collective of radical Black women located in the city of Chicago. We identify our work as part of the larger Black Lives Matter movement.
Our community programs aim to escalate, deepen, and sustain this movement for collective liberation.
Being Black at School helps teachers, school boards, and students navigate tough conversations in the classroom. Our Curriculum and Training Teams can work with your districts educators to develop classroom practices rooted in restorative justice and cultural competency.  Donate here or purchase a t-shirt/mug in support here.
Black Youth Project (BYP 100) is an activist member-based organization of Black 18-35-year-olds, dedicated to creating justice and freedom for all Black people. We do this through building a collective focused on transformative leadership development, direct action organizing, advocacy, and education.
Million Hoodies for Justice is a human rights membership-based organization that builds next-generation human rights leaders to end anti-black racism and systemic violence. Million Hoodies is home to a national network of students and young people in ten local communities and campuses, committed to building a movement for dignity and democracy.
Raising an Advocate is a spin-off from Mamademics and focuses on developing content and courses on the role that parents play in raising social justice advocates. Purchase a course, send a one-time donation, or pledge monthly support.
Environmental
Clean water is the right of every citizen but we know after watching the Flint Water Crisis and what's currently happening at Standing Rock that not everyone has access to clean water. Support the right to clean water by sending in donations to those impacted in Flint, MI and the Standing Rock camps in North Dakota
Immigration
The UndocuBlack Network's mission is to "blackify" the undocumented immigrant narrative in the U.S. and facilitate access to resources for the Black undocumented community.
LGBTQ
Southerners on New Ground is a regional Queer Liberation organization made up of people of color, immigrants, undocumented people, people with disabilities, working class and rural and small town, LGBTQ people in the South.
The Trevor Project is the leading national organization providing crisis intervention and suicide prevention services to lesbian, gay, bisexual, transgender and questioning (LGBTQ) young people ages 13-24.
Social Justice Advocacy Women Writers
Jasmine Banks is Queer Black femme-inist living in Northwest Arkansas. "JustJasmineBlog" started as a space for Jasmine to write essays, process her experiences, and reflect on the question: does everyone experience this or is it "Just Jasmine?". Jasmine is a mental health activist, a mother, and a semi-professional trash talker.
Danielle Slaughter is a doctoral student in the Rhetoric and Composition program at Georgia State University. She is passionate about the intersections of social justice advocacy and parenting. Danielle shares her experiences navigating motherhood while finding her place in the academy on the website that you're reading right now. Her essays will take you on an emotional rollercoaster as you experience what it's like to raise a carefree Black child in a world hellbent on breaking his spirit.
The Kinfolk Kollective is run by a LaSha, a black woman who is hellbent on destroying white supremacy. Her essays are moving and will get you all the way together. Plus, the community she's built on Facebook is both thought-provoking and entertaining.
Have someone to add to this list? Link them in the comments and tell me the work they do.