Editor's Note: This post is written by Mr. S and details his version of the birth of our second child, who will be known as Blueberry and/or Sidberry around these parts.
Alright y'all. You knew this was coming. You know who it is, Mr. S bout to give you the run down on the baddest, coldest, most gangsta momma of them all; Danielle. Now if you missed the first birthing story, that's yo fault. You shoulda been on Team S from the get go, but I will bring you up to speed.
Now with our first son, Sesame, we took the long, hard road. We trained with all the big dogs, revised our birthing plan like 50 11 times. Watched all the documentaries and read all the books. We were more ready than Pence is to move into the Oval. Then we got hit with the bullshit. The Doc told us that training camp was about to shut down on us. Our all-star could be lost if we didn't follow the 'medical advice' they were throwing at us. Calcified placenta??!? Who ever heard of that crap. So we followed the doctor's recommendations and instructions, ending up with Mrs. S enduring 36 hours of Pitocin induced labor with no epidural. Now, tell me that ain't gangsta?!?
Well, what came from that hard work and struggle is my name sake, first born, superstar in the making, Sesame. Y'all all know his charisma and wit is second to none. He is posed to take the world by storm in only a few short years; hell, he was a top draft pick in his kindergarten class. Class of 2030 salutatorian AND valedictorian. How you like them apples, teach?!??
But I digress. Getting back to the lesson at hand: Gangsta Momma Danielle. Like I was saying, she is the most cold-blooded deliverer of life you have ever seen. Now five years after that first masterpiece, we decided to have lightning strike a second time, yet another buxom boy, gonna call him Sidberry. Yeah, I know we got a penchant for naming our kids foods that start with the letter S! Some foods we made up. Does that make us self-centered? I don't know. But I do know that it sounds slick as shit. Moving on. This time around we wasn't listening to these so-called professionals. Hell, these doctors barely know what they talking bout half the time.
So this time our plan was… no plan at all. We didn't give a rat's ass about all the prep 'they' say we were posed to do. Hell, we had managed to keep Sesame alive for 5 seasons without all that fancy smancy planning. We could wing this one. Our superior genes alone would guarantee us at least another top 5 draft pick. So we kicked it. For 37 weeks we went on about our lives without a care. I mean, yeah we wrote out a birthing plan (by 'we' I mean 'she'). We bought a few things here and there but between what we still had from Sesame and all of Mrs. S's adoring fans, this Sidberry thing was on lock! With a due date in mid-August, we had plenty of time.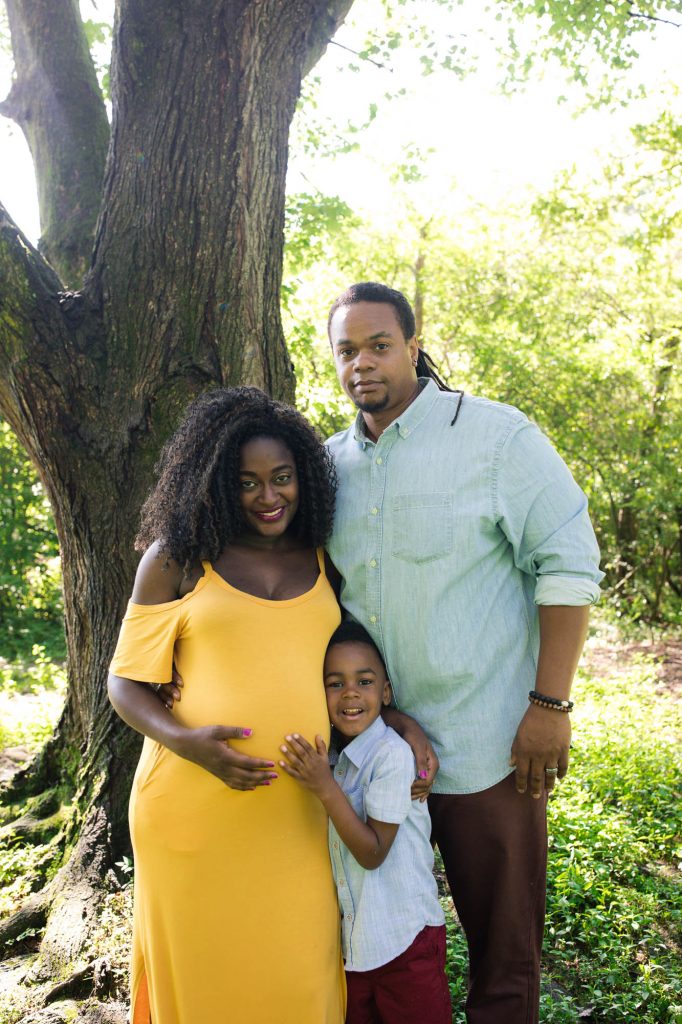 Photo credit: Kita Bryant from It's Really Kita
July 30th around 5pm, as Sesame was displaying his phenomenal skills riding a two-wheel bike without training wheels – yeah, you read it right; 5 years old and already riding a bike without training wheels (watch out Lance Armstrong) – super gangsta moms Mrs. S had begun early labor. But did that phase her?! Hell-to-the-naw!! We were chilling hard on a Sunday night. So hard that we watched Power AND Insecure. About midnight it started to get real so I ran a warm bath with the Epson salts (eucalyptus and peppermint) that she soaked in for only a few short minutes before yelling "IF YOU DONT WANT TO HAVE THIS BABY IN A BATHTUB, GET ME TO THE DAMN HOSPITAL!!!!!" So I scrambled to get Sesame dressed and grab the bags that we had not finished packing, load them up in the Jeep all while still giving words of encouragement to a gangsta that really needed me to shut my mouth and move my ass.
"WHY YOU STOPPING AT ALL THESE RED LIGHTS?!?" A question I never thought I would hear posed out loud, was repeated a few times on our fifteen-minute drive to the hospital. Once we got there I left the Jeep running while I got the wheelchair and rushed my wife, my love up to Labor & Delivery. The nursing staff realized almost immediately what I was lost on: this baby was coming right now!!
My gangsta ass wife delivered our new bundle of joy in street clothes; no time for an IV or hospital gown. No drugs. No drama. Just grace and grit. Before I could fill out all the paperwork, Sidberry had been born. You can't tell me this kid is not going places fast. And you can't tell me that he doesn't have the most gangsta momma on the planet.
Mr. S out.