6 Tips For Road Tripping With Kids
We've been taking road trips with Sesame since he was about 4 months old. Every summer we've traveled to the Midwest to visit our family in Detroit and Chicago. We've also done shorter road trips to Chattanooga to attend A Day Out With Thomas. This past April we took a trip to Houston and it was our first-time road tripping to a place where we didn't have family. People are always shocked when I mention how we travel with Sesame and ask for trips.
I realized that I should probably write a post at some point, so there are my tips for road tripping with kids.
1. Be Flexible
I know back in the day we could totally do a 12-hour road trip only stopping for gas and fast food, but that's not gonna work with kids and you need to be open to change. When we first started road tripping with Sesame he was still nursing and while I could get him to drink from a bottle on occasion. He still wanted the comfort of being close to me and nursing straight from the tap. We always made sure that gas fill-up spots were also located in areas, where I could either nurse comfortably in the car or in a restaurant waiting for food.
As he got older, it was important to stop every few hours, so he could play and stretch his legs. We didn't rush him or worry about a timeline. It was better for him to have a few breaks so that he didn't give us a hard time about getting back into the car. Oh and letting him burn some energy during the trip makes it easier to get him to go sleep once we arrive out our destination.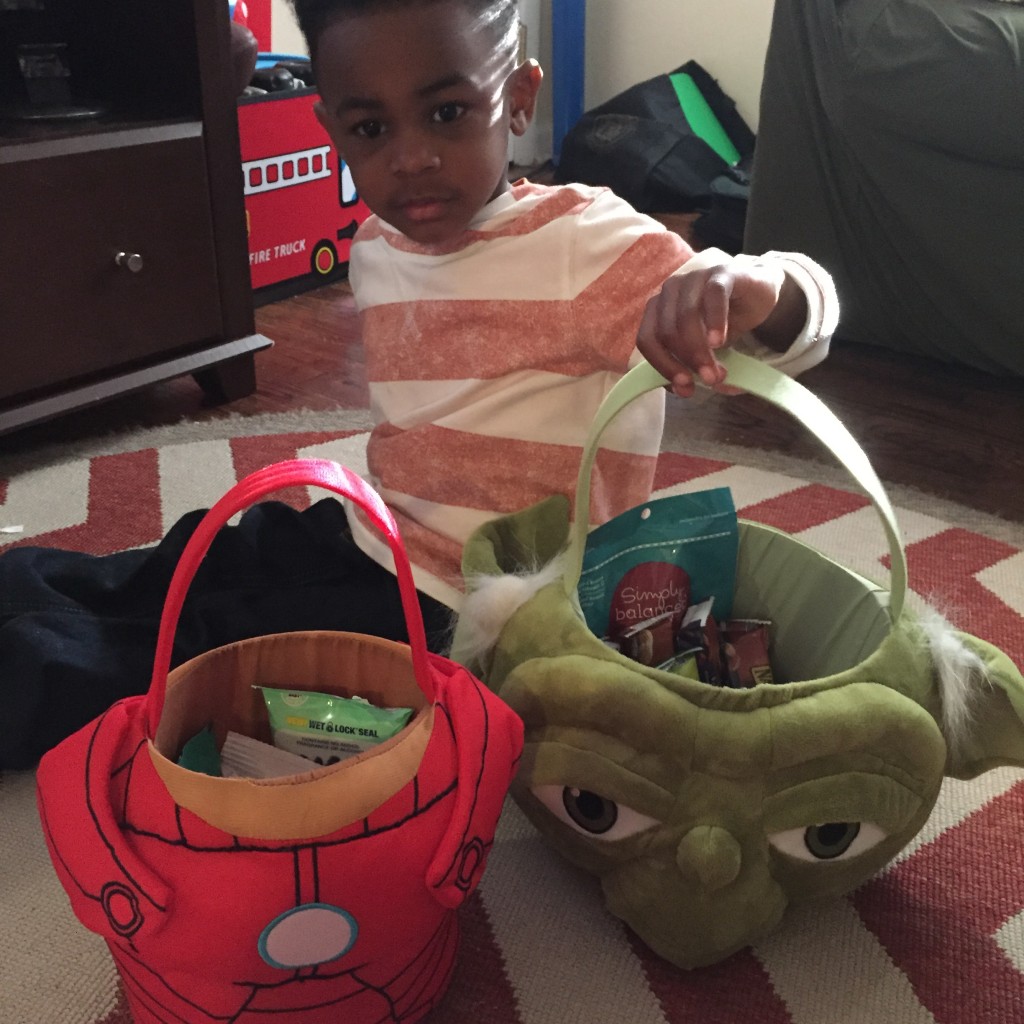 I typically create two travel baskets to keep in the car. I usually grab a basket from the dollar section at Target, but this time, I purchased Easter baskets that were on super clearance.
I filled Yoda with snacks that we'd all enjoy but made sure to focus more on the ones Sesame loves. For our Houston trip, I added fruit snacks, individual boxes of craisins, Nature Valley Oatmeal Squares, and other granola bars. I also made sure to pack enough for us to take to the hotel or house so that we weren't eating from the vending machines.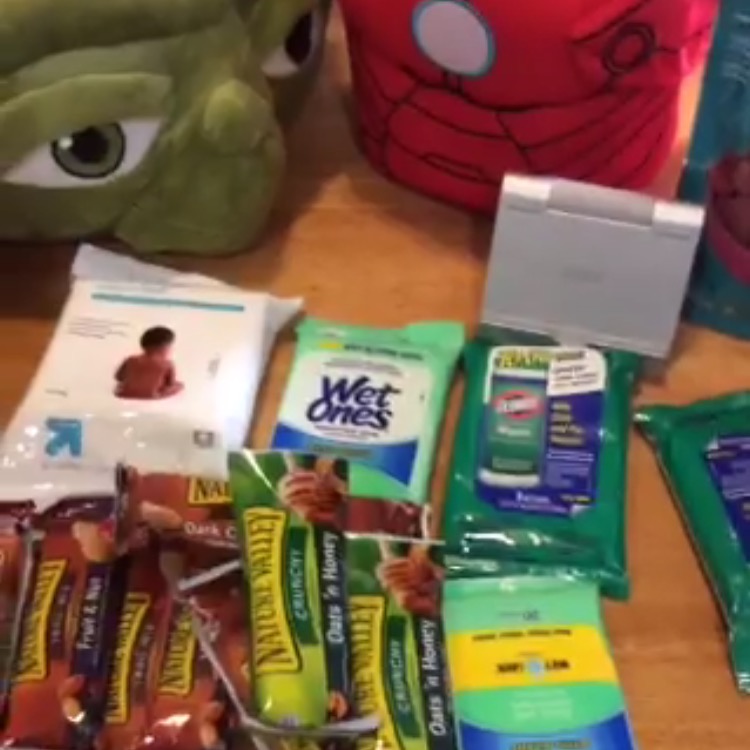 I used Iron Man for health and cleaning things — Clorox Wipes, Wet-Ones, baby wipes, lotion, Kleenex, etc. These are important to have even if you don't have a kid with you because messes happen. You also want to make sure you have some first-aid type of supplies with you. I like to pick up the little one in the travel section of Target that has a little gauze, antibacterial cream, and Band-Aids.
Make sure the baskets are easily accessible for the person in the passenger's seat and the little ones as well. This way no one has to take off their seat belts to get anything.
3. Have fun just-in-case entertainment
You never know when you might end up having to pull into a rest area for an extended period of time. We've been known to take a break while we wait for traffic to die down and last year we had car trouble during our trip. Sesame had a kite in the trunk that came in handy, as well as his baseball and bat that he insisted on taking to show Pop Pop. Both of those things came in handy during our unexpected stops because it gave him something to do. He skinned his knee playing with the kite, but I was prepared with our first-aid kit.
I think one of Sesame's favorite parts of our trips now is finding out what's in his road trip box. Since we are usually gone for a long period of time, I try to make sure he has activities for our down time in the hotel or at his grandparent's houses. I fill a storage container with coloring books, crayons, small toys, a puzzle, drawing pad, stickers, etc. Some of these things he already has around the house, but I try to add a few new surprises for him.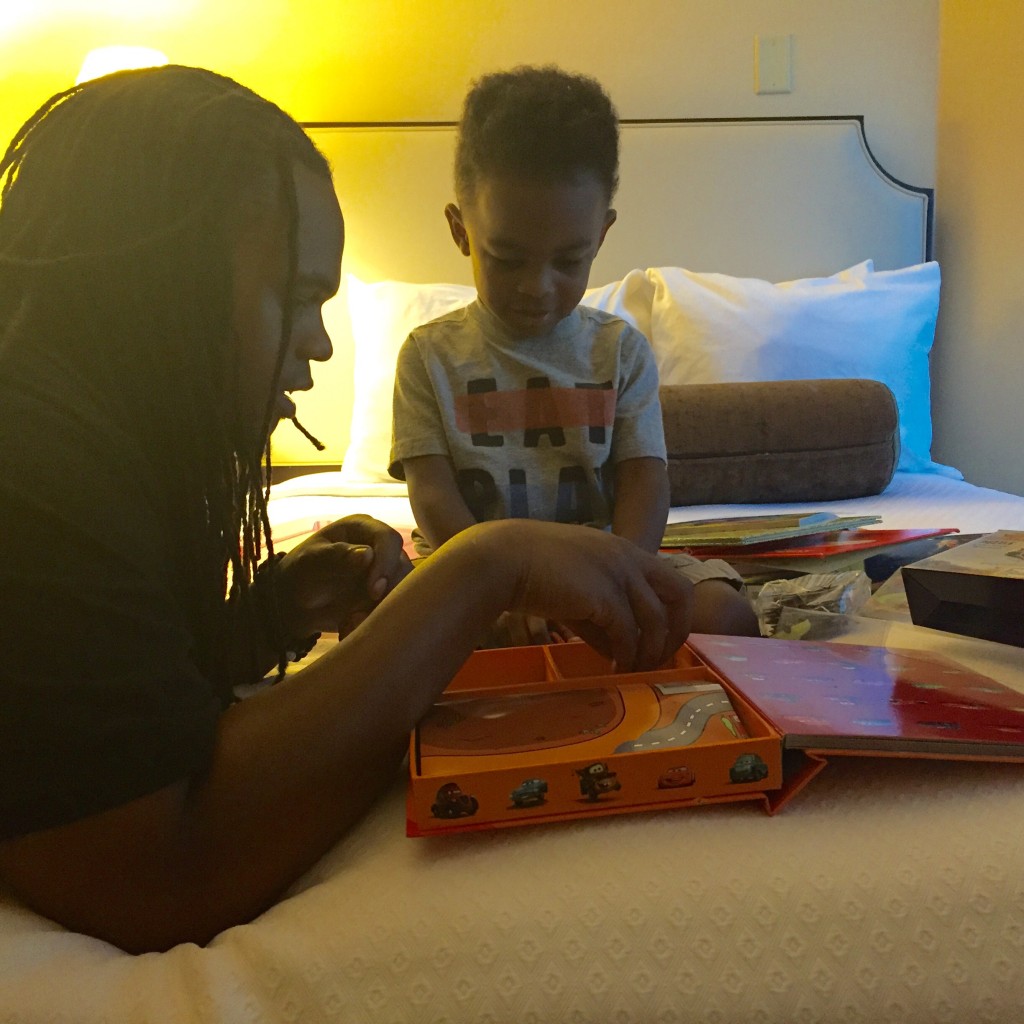 Initially, I did this for my own sanity in the car, but last summer was the first time he was able to really understand the idea and the first thing he wanted to do was unpack his box once we got to the hotel.
You can see a more of what I've included in his travel boxes in the past here and here. If you want to see him opening his travel boxes check out these videos: Midwest 2015 and Houston 2016
5. Hype up the trip in a teachable moment way
I know that some people aren't fans of telling children details because they'll hold you to them. However, I like to start preparing Sesame for the trip as soon as we've booked our living arrangements and finalized the dates. We look at pictures and I show him places we might go while we're there. When we started planning for Houston, I hyped up the Space Center because he's really been into astronomy lately. Of course as soon as we got there, he wanted to know when we were going and having the schedule already planned really aided in us being able to give him the dates and days for certain events. This helped us practice his days of the week.
During the actual car ride, we let him know what states we were in and something significant about the area. Mr. S is really good with that part of the trip because he's a history buff, but sometimes it's as simple as telling him people we know who live there, so he remembers the locations.
6. ENJOY YOUR TRIP!!!
Finally, just enjoy the trip and time together. The car ride is long, but these are chances for you to bond with your spouse and your children. Take turns controlling the music and learn new songs. Count how many green cars you see on the way. Makeup stories together.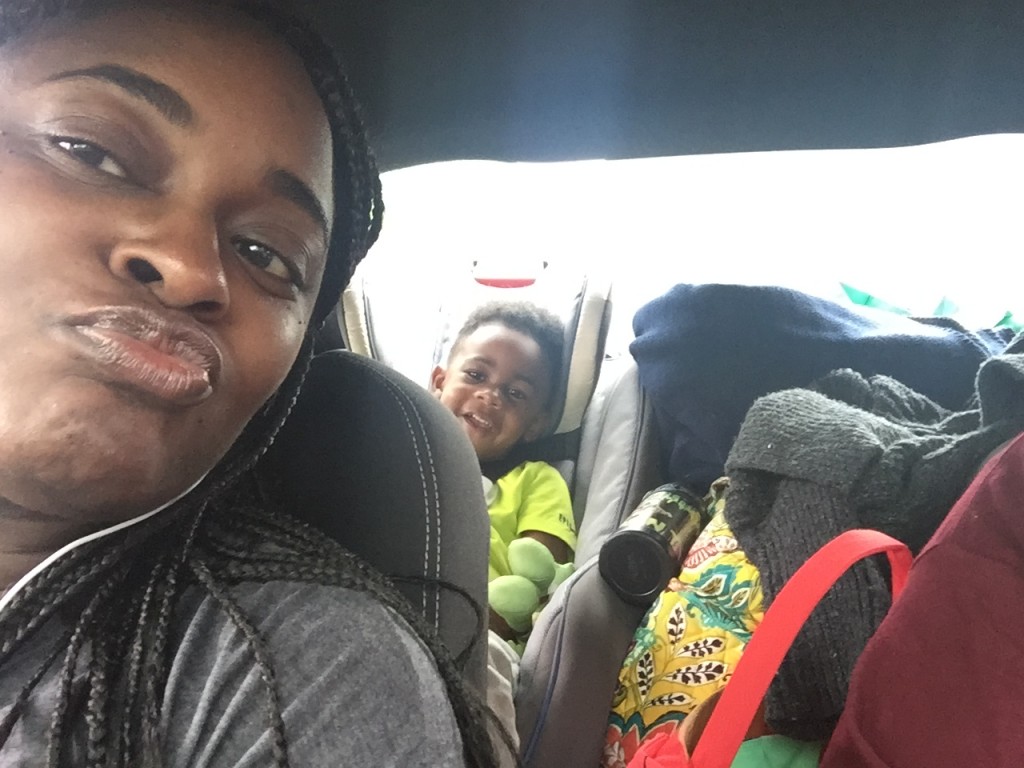 Every year, I reflect back on the previous year during our car ride and how much he's grown since the last trip. We talk about things we did on a prior trip and what we might do instead this year. We use Yelp to find new restaurants to try while we're on the road. Just last week we couldn't decide where to go for dinner or what we had a taste for and Sesame said he wanted cheeses sticks. We were trying to figure out where we had cheese sticks and he said "last time in the rental car." He was talking about a place we found on Yelp when we were driving through Louisiana. Of course, we couldn't go back to Louisiana, but we could find somewhere to eat cheese sticks in Atlanta.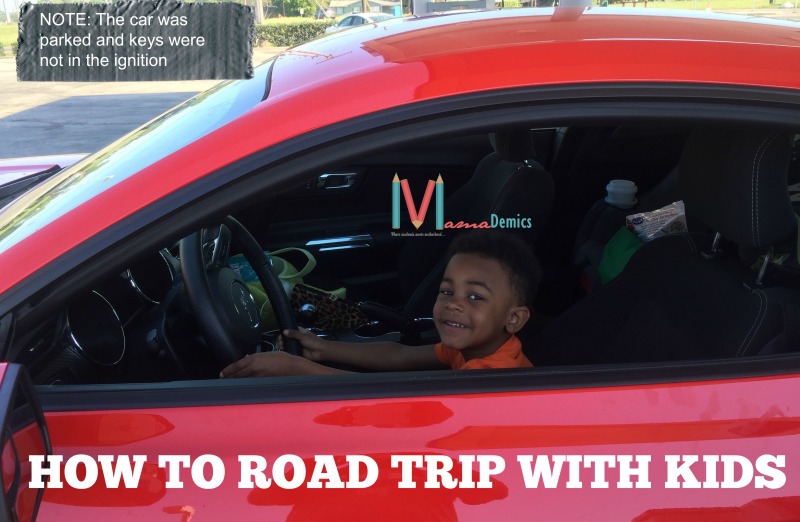 Do you take long road trips with your kids? Let's chat about tips in the comments.