Back to School Preparations: Overcoming Travel Anxiety w/ Ride Services and the RideSafer Travel Vest
Disclaimer: This post contains affiliate links. If you make a purchase through the link, I receive a small commission.
If you're a long time reader of Mamademics, you know that I don't have a driver's license.I've always been a fan of public transportation and never had an issue getting where I needed too, so not having a driver's license wasn't really a big deal before I had Sesame. However, the older he's getting the more it's becoming clear that I have to conquer this fear.  I've been on the fence about public transportation with Sesame and Mr. S is totally against it. For starters, many streets in our neighborhood don't have full sidewalks, which makes waiting for the bus a bit dangerous alone and definitely dangerous with a tiny human.
Sesame starts preschool in two weeks and when we decided to enroll him we had a conversation about me finally getting my license. Mr. S even gave me a few lessons, but I'm still not ready for the test or the road. So, as the date for school neared, I started doing research about ride services and traveling with a car seat. I've taken Uber alone in the past, but the car seat was always one of my concerns with a little one. I needed to find a way to carry his car seat and insure that I don't forget it in the car. During my searches, I came across the Ridesafer 2 Travel Vest and after researching the product, I reached out to the company.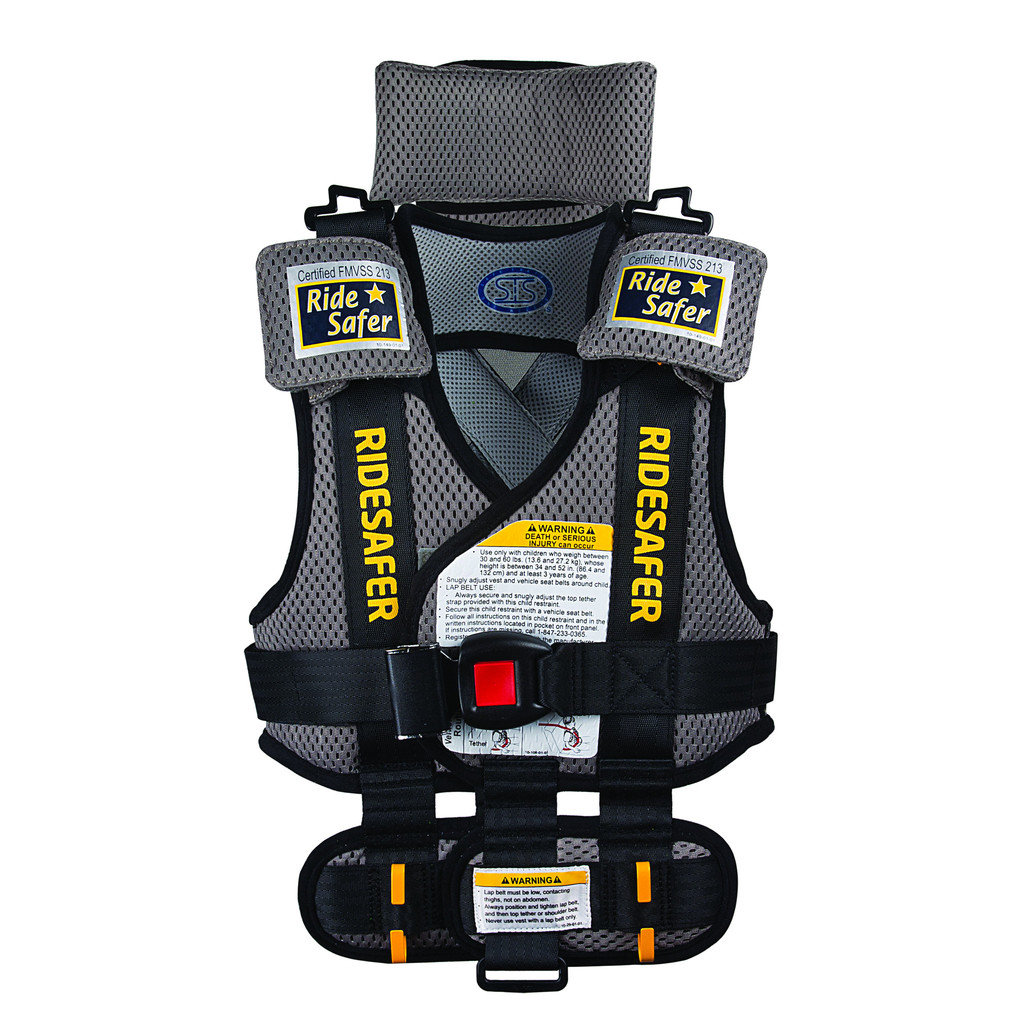 After a few email exchanges, I decided that not only did we absolutely need to purchase this vest, but that I also wanted to serve as an affiliate because it's seriously an amazing product. We've been using our vest for about three weeks now and it's made my travel anxiety lessen simply because I don't have to remember not to leave the carseat in the driver's car or worry about lugging it around throughout our adventures.
Alright enough of me rambling, here are the details on the vest:
Right now the Ridesafer Travel Vest comes in three versions: Ridesafer 2, Ridesafer 3, and a Ridesafer European Version. I chose the Ridesafer 2 because it can be used with either a lap-shoulder belt or a lap belt and the tether (they include a single tether).  Each vest is available in two size– small for children at least 3 years old and between 30 and 60 pounds; and large for children between 50 and 80 pounds. Sesame meets the minimum requirements, but we still have to tighten things to make sure it's snug. I think it'll fit even better in the winter when he's wearing heavier clothing.
The vest has been crash tested and meets and/or exceeds all current Federal standards. It's lightweight, which makes it perfect for traveling and it can fit in a backpack when not in use. If you want to see the vest in use, check out this great YouTube video from the company. I used it to make sure I properly installed him the first time.
We've used our Ridesafer 2 Travel Vest several times over the last few weeks. Sesame was nervous initially and kept feeling for his car seat, but after the first couple of rides he started asking me "when we going to the Uber car" and if he could wear his vest. He knows what has to be snapped and to make sure he's nice and snug with lap-shoulder belt before we take off. Beyond using it for our Uber car rides, I know we'll use it the next time I take Sesame to visit family because it's one less thing to worry about the airport losing or damaging.
One con I'd like to point out is the lack of side impact protection that's present in a traditional car seat. I'd suggest putting your little one in the middle when possible, to prevent this from being an issue. I also don't recommend this as a complete alternative to a car seat, but I think it works well when you're not riding in your usual car.
We'll be using ride services like Uber and Lyft, and the Travel Vest the first few weeks of preschool while I work on finally getting my driver's license. I love that ride services are super affordable and we rarely have to wait longer than 5 minutes for a ride. For the most part, our drivers have been really friendly and knowledgeable about their routes.
Do you use a ride service with your little ones? If so, how do you carry your car seat? Would you purchase the Ridesafer Travel Vest? Be sure to check out Safe Ride 4 Kids on Twitter and Facebook for more information.
Try Uber or Lyft free for your first time by clicking one of the pictures below (and I get a free ride too).