This is going to be a super quick post because I'm posting from my phone using the WordPress app. I have to post from my phone because a certain cute little baby doesn't like to see me on my computer, which means I need to change my blogging schedule from mornings to evenings.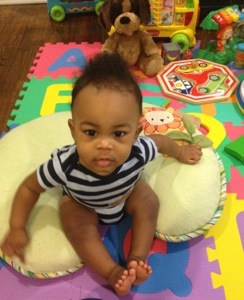 Anyway, the tiny human is 10 months old today. He is now entertaining himself for longer periods of time with all his Christmas toys. His current favorites are the wooden puzzle pieces that he wants to chew (teething again) and his xylophone and mallet. He loves to make a banging noise…my poor ears.
He's also walking around the table and trying to get up the nerve to let go. We're going to Stride Rite this weekend to get him some sturdy walking shoes…brown not white I can't do white ones lol. He finally learned to sign "milk" this week and he loves doing it when he's already nursing. He taps me until I look down and then he signs "milk" and smiles. So adorable…
I also pretty much decided that I will call him Sesame and Tiny Human interchangeably on the blog.