After-School Snacking Made Easy With Pediasure
 I have been compensated by PediaSure for this post; however, I am sharing my own thoughts. All opinions are my own.
I don't know about everyone else but it seems like every since Sesame started back to school he's been eating non-stop. He's only in school half a day and I pack him a lunch that he eats right before I pick him up but within 30 minutes of walking into the door,he's requesting a snack. Now this wouldn't bother me as much if he hadn't suddenly become a little picky about his snacks or if I didn't have to remember that he doesn't always want the same thing he had in his lunch. Oh, and did I mention they give them a snack at school so I can't duplicate it? Can you feel my frustration right now? Yea, so could Sesame, which led to him trying to convince me that he needed a cupcake or some other sugary snack. I don't mind sugary snacks here and there but I really want to make sure he's getting all the nutrients he needs.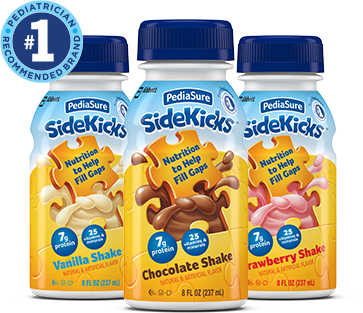 That's where Pediasure Sidekicks comes into the mix. Each Pediasure Sidekick contains 7g protein, 3g fiber, and 25 essential vitamins and minerals that help close the gap for kids who might be missing out some of their daily key nutrients. The shakes are available in three kid-approved flavors, chocolate, vanilla, and strawberry. Did I mention that they come in reclosable bottles so they're perfect for on the go and are also gluten-free, kosher, and halal, and appropriate for kids with lactose intolerance?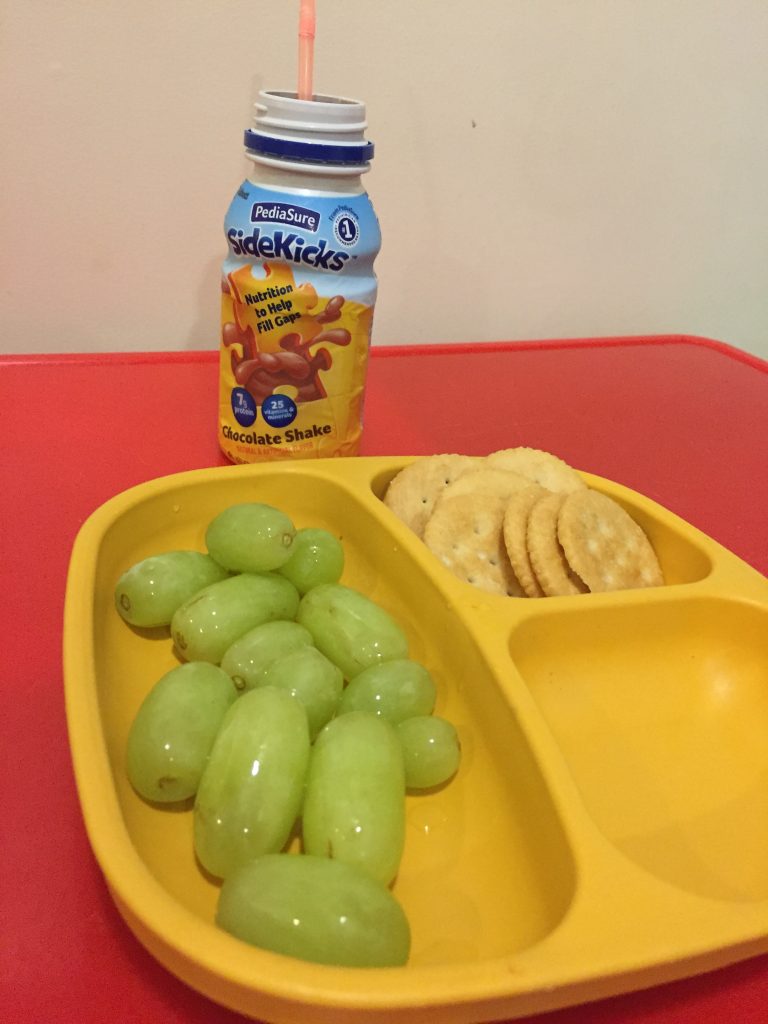 I decided to take Sesame with me to Wal-Mart to pick up the shakes so that he could pick a flavor and we could talk about the importance of a healthy after school snack that is both filling and helps him grow big and strong. We quickly found them in the baby aisle, which he didn't seem to mind, and he chose chocolate. He wanted to try them as soon as we got home but I told him we needed to put them in the refrigerator since they taste better chilled.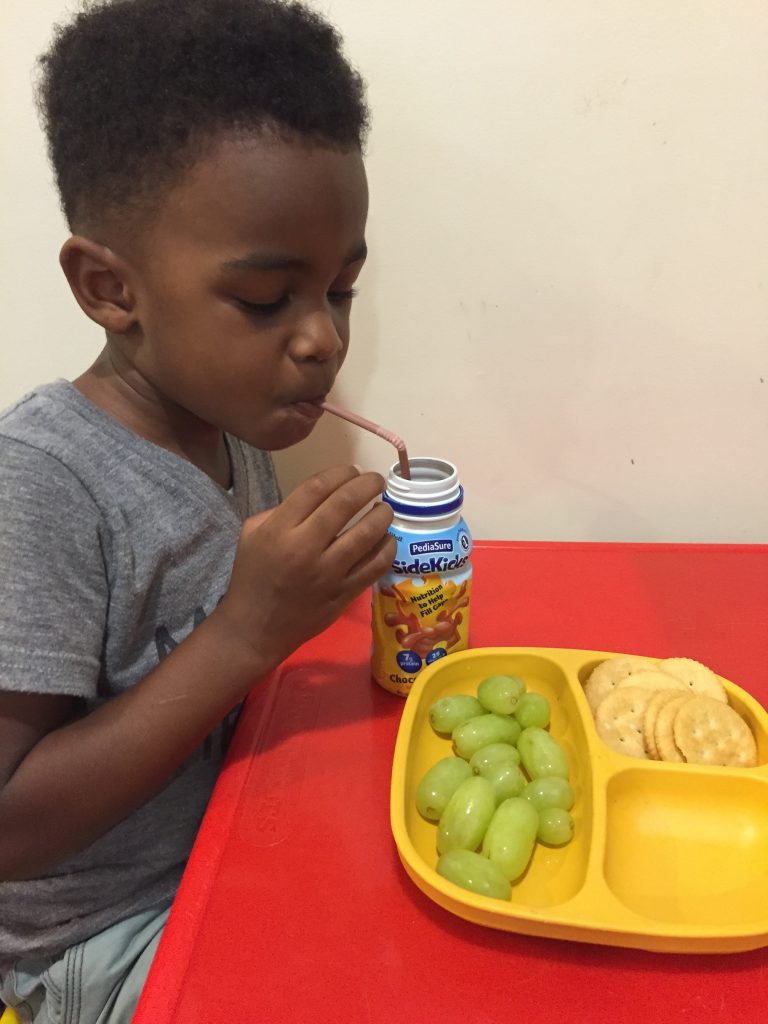 After-school the next day his snack decision was so much easier, he grabbed a shake and I added a plate of grapes and crackers just because he had devoured his entire lunch and apparently all that playing is tiring. I'm not sure if it was the fact that it was something new or that he was able to randomly use a straw at home but he started drinking so fast, I had a hard time getting pictures.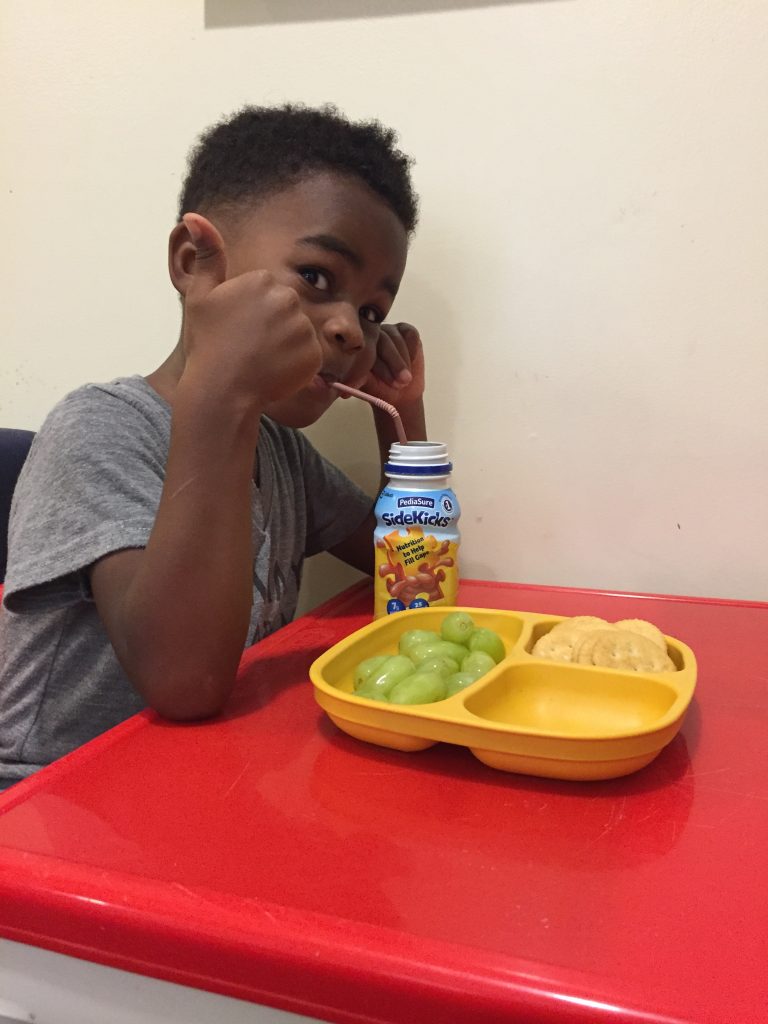 As you can see, he totally gives them a THUMBS UP! He loves them so much that we only have two left so I need to pick up more soon. I wonder what flavor he'll choose this time. I think I'll try to convince him to try out the vanilla so that we can bake with it. Yes, you can totally add the Pediasure Sidekicks as replacements for milk in your favorite recipes. Head over to Walmart and find out how you can save by ordering more: Pediasure Sidekicks Bundles.
Do you think your picky eater will enjoy Pediasure Sidekicks? Have you already tried them? Let's chat in the comments.
Be sure to follow PediaSure and Wal-Mart on Facebook and Twitter to find out more about products #ForPickyEaters. If you've already purchased, use hashtags #Pediasure and #Sidekicks to get their attention.