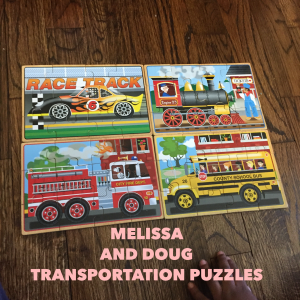 "Mommy, can you pay wit me. Pay wit me mommy, pease." Every time I hear these words when I'm in the middle of something I feel enormous guilt. Sometimes I ask him to give me a few more minutes. Sometimes I tell him I can't right now because I'm working. And then there are days like Tuesday when I just stop and ask him what he'd like to do.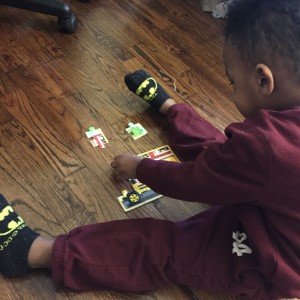 He wanted to work on puzzles. He doesn't have jigsaw puzzles down yet, but watching him try to figure out what pieces go where totally made me losing my train of thought to sit down with him worth it.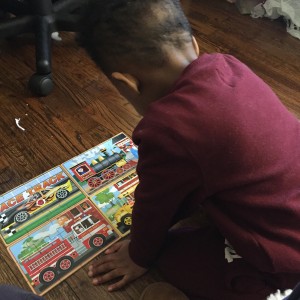 People ask me pretty regularly how do I balance it all and my answer changes daily because honestly there is no one size fits all plan. The one constant in my response is "family first." My family comes first and the rest just happens in due time. There are days like Tuesday when I have to remind myself "family first" when I don't really want to stop and "pay," but I never regret those moments.
We picked up these Melissa & Doug puzzles during a trip to Ross, but you can get them on Amazon (affiliate link below). I'm a huge Melissa & Doug fan and I love that these puzzles come in their own storage box for easy clean up.