I cannot believe that it is already February, which means that Valentine's Day is upon us. January feels like it flew by probably because I've been super busy getting things done and procrastinating on others. One post that I initially planned for January that didn't see the light of day was a Mamademics' Survival Guide. It was supposed to be up the week classes started back, but life happened and I didn't get it done. So, I decided to add a few things and turn it into a Valentine's Day Gift Guide instead. If you're looking for last minute gifts for the Mamademic in your life, here are some helpful hints.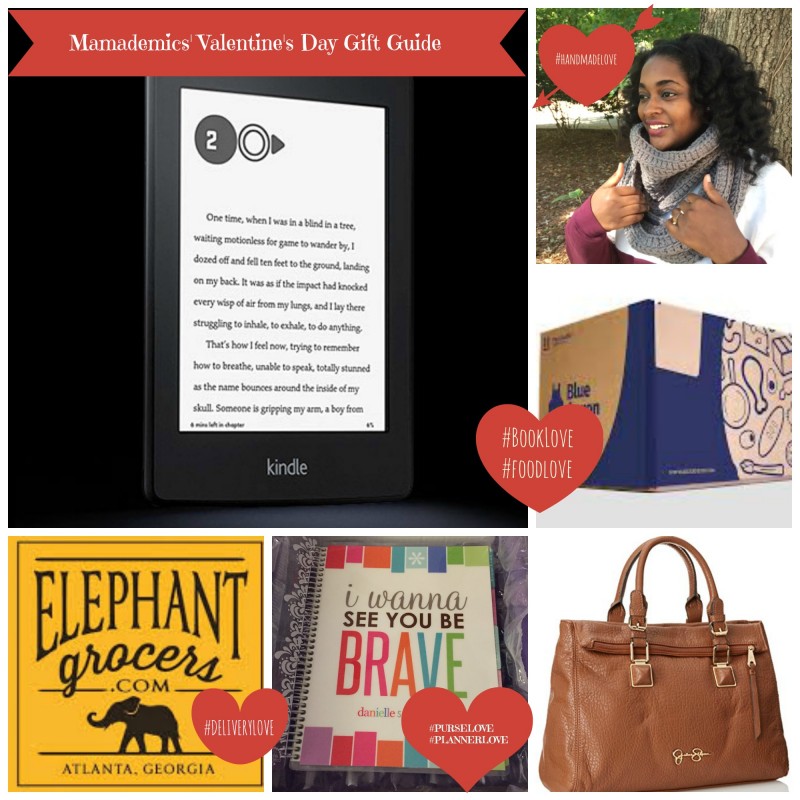 Note: This post contains affiliate/referral links. 
1.
Amazon Kindle Paperwhite
: This is the first thing on my list because I LOVE to read and I highly doubt there is a Mamademic out there who doesn't love reading. While I still love sniffing brand new books and browsing bookstores, my e-reader is one of my favorite things. My parents gave me my first kindle in 2010 as a gift after I finished my Master's and it's been a beloved favorite every since. I even took it to the hospital with me, so I could sneak in some reading the night before I was induced. It recently went crazy and Mr. S lovingly replaced it for me with the Paperwhite this weekend. I'm actually waiting for the mailman to deliver it as I type this post. Aside from being able to take an unlimited number of books with me everywhere, I also love my e-reader because it's easy to use while holding a sleeping baby. It was a great friend during marathon nursing sessions as well. Oh and if you have Amazon Prime (which you really should) you can get it in two days, so no worries on last minute gift buying, right.
2. Hook Smart's Midwesterner Scarf: Yes, this is a shameless self-promotion, but hey it's my blog and I can do what I want lol. If you're looking to give a handmade gift this year, I highly recommend this scarf. It's one of my personal favorites and is perfect for keeping warm in chilly coffee houses or libraries while getting work done. Don't worry if you don't know what color she'll like you can always buy a gift card and let her decide for herself.
3. Blue Apron: If you follow me on Instagram, you know that I've been RAVING about my Blue Apron experience. We're on our second week of meal deliveries and I'm seriously kicking myself that we didn't do this sooner. Seriously, where was this right after we had Sesame or when I was in the middle of studying for comprehensive exams. I'll do a detailed review soon, but just think ingredients for healthy meals delivered right to your door, and the meals only take 30-45 minutes to prepare. If you're looking for a practical gift to give a Mamademic, this is definitely it and yes you can gift a subscription.
4. A Purse: You can never go wrong with a purse because Mamademics always have a TON of things that we need to carry. If you looked in my bag right now, you'd probably find a random snack for Snack, my iPad mini, a crochet project, a notebook/planner, plus an array of cosmetics and writing utensils. The bag pictured is Jessica Simpson's Posh Tote in Whisky and I actually picked it up for myself this weekend because hello I can never have too many bags, right?
5. Erin Condren Life Planner: If there is one thing that every Mamademic needs it's a planner. I live by lists and my planner helps me keep track of everything in one place. I've been searching for a planner that gave me room to fit in everything I need and after one month I can truly say I'm IN LOVE with my life planner. I love how much room I have to make list and keep things organized, plus there are so many different accessories out there to help you make it your own. Since these planners are all about personalization, I'd encourage you to purchase a gift card and let her order it herself. Use my referral link and get a $10 off coupon (I get a $10 coupon as well)
6. Grocery Delivery Service: Last, but certainly not least on my list is a gift certificate to a grocery delivery service. If you live in Atlanta, I encourage you to check out Elephant Grocers (read my review here). If you're not in Atlanta, just google grocery delivery and your city/state. Make sure they deliver to the recipients address and buy them a gift card.  There is nothing more frustrating for me than having to stop a writing/grading session to pick up groceries. I wish I had known about grocery delivery services after I had Sesame because it would've made life so much easier for me. I'm seriously contemplating giving these out as baby shower gifts.
Bonus Gift Suggestion:  This gift is a bonus because it's not something I've actually purchased, but you never go wrong with jewelry. If  your budget is tight, give Imagine Diamonds a try. Their prices are affordable and all their diamonds are natural and conflict-free. You can also build your own engagement ring. Plus, each purchase comes with a 30-day money back guarantee, and in an industry first, a purchase can be returned for 70 percent of its original price after three years with Imagine Diamonds' guaranteed buyback program. That's pretty cool, right?
Which gift would you love to receive and why?