In honor of breastfeeding awareness week, I thought I would share a brief update on my nursing relationship with Baby S. I'm also going to do a "politics of breastfeeding post" in the next few days. Baby S will be 5 months in 9 days (wow time is moving really quickly), and as many of you know breastfeeding did not come easy for us at all. Remember this post–Things No One Tells You About Breastfeeding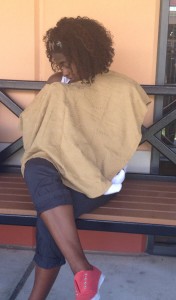 Baby S was 6 or 7 weeks the last time I talked about our challenges with breastfeeding, so here's a brief recap. He was very tiny at birth, which made it hard for him to suck and swallow. We spent a few days feeding him via a medical syringe and gradually moved to bottles once he was able to suck. I tried to always offer him the breast before the bottle, and since he rooted around a lot I would offer at those times as well. Around 3 weeks I had pretty much resigned myself to the fact that I was going to have pump if I wanted my son to have breastmilk. Pumping was time consuming and meant less sleep for me, because I would have to pump after he went back to sleep. At 3.5 weeks I was dealing with my SECOND case of mastitis and feeling like giving up. Baby S must have known I was in pain, because he kept rooting that day and trying to get to the breast even though I was offering him the bottle. I put on a nipple shield and HE LATCHED!!! He helped me clear that clogged milk duct in 2 days…seriously the pain was gone so much faster that time.
After about a week of using the nipple shields, I tried to get him to latch without them. No luck! He would just play around and refuse to eat. So, I ordered more nipple shields and resigned myself to the fact that I might just have to use them for the duration of our nursing relationship. A friend told me about a mom who nursed her daughter via nipple shields for almost 2 years. Not bad… well around 8 or 9 weeks Baby S started knocking the shields off while nursing. Sometimes this meant he was done eating, but then other times he would try to latch get frustrated and then eat once I put the shield back in place. Then it happened…
He was 11 weeks old and it was the day after my surgery for the postpartum nightmare and Baby S was once again knocking off the shields. I showed Mr. S what he had been doing and he said why don't you just let him try. My reply was something like  "I do let him try and then we just end up with milk everywhere and I'm not trying to clean that up right now. He won't do it." Of course as soon as I said this Baby S latched sans nipple shield. We seriously haven't looked back. He rejects his pacifier and barely takes a bottle. He will drink an ounce and wait for the "real thing." I've decided to introduce a sippy cup in the next week or so, because I don't want him to just refuse to drink milk if I'm not around. Plus, he has an interest in cups now.
I know that breastfeeding is a natural way to feed your child, but it does not always come naturally for everyone. It can be very overwhelming, but when you get it together it's amazing. I love not having to worry about making bottles and maintaining a large stash of breast milk. Waking up in the middle of the night to feed him isn't as exhausting because I can lay on my side, feed him, and fall right back to sleep with him.
There are definitely challenges that you have to overcome, but in the end there is nothing like looking down and seeing your baby look up at you and smile while eating.
Did you breastfeed? How long did it take you to get into a groove?
P.S. Make sure you check out the Mission Possible giveaway…