Have A Laugh With Audible
This is a sponsored conversation written by me on behalf of Audible. The opinions and text are all mine.

I don't know about you but with everything going on in the world sometimes I just need a good laugh. Sometimes that laugh comes from what's on television or my 4-year-old coming up with his own jokes, and other times it comes from listening to a funny book via Audible on my way to work. I've mentioned before that Audible helps me keep up with my reading list while getting other things done like crocheting for my Etsy shop but sometimes I like to use it to make my commute to work easier. I can pop my headphones in on the train and listen to a story without having to worry about getting so engrossed that I miss my stop. Plus, if you pick something funny to listen too, you'll be in a pleasant mood when you get to work.
If you're finally ready to try out Audible,  sign up for their one-free month trial offer here. Wanna start with something funny? Here are a few comedy books to give a try.
Bob Honey Who Just Do Stuff: Audible's recent release is a quirky and dreamlike story that captures America on the verge of political upheaval in 2016. Sound familiar? The book is written by Pappy Pariah, who manages to a haunting story that is also hilarious as it follows an American middle-aged man trying to find truth in a political campaign that might very well destroy the country he loves.
Bob Honey Who Just Do Stuff is narrated by actor, director and writer Sean Penn. He is the perfect person to amplify the comedic character of Bob Honey. Penn's distinct voice truly brings the character of Bob Honey to life all while capturing Pariah's implicit message.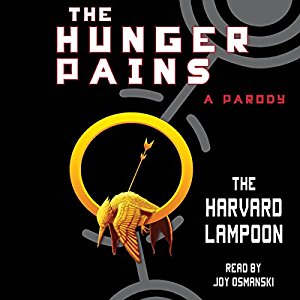 The Hunger Pains: As you can imagine, this is a parody of the popular Hunger Games series. If you've read the series and followed Katniss Everdeen's journey, Audible's blurb about the book is enough to give you the giggles:
When Kantkiss Neverclean replaces her sister as a contestant on the Hunger Games – the second-highest-rated reality TV show in Peaceland, behind Extreme Home Makeover – she has no idea what to expect. Having lived her entire life in the telemarketing district's worst neighborhood, the Crack, Kantkiss feels unprepared to fight to the death while simultaneously winking and looking adorable for the cameras. But when her survival rests on choosing between the dreamy hunk from home, Carol Handsomestein, or the doughy klutz, Pita Malarkey, Kantkiss discovers that the toughest conflicts may not be found on the battlefield but in her own heart… which is unfortunately on a battlefield.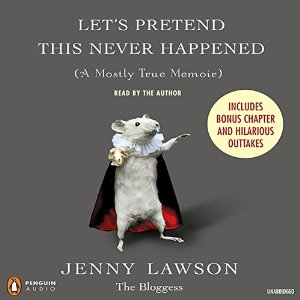 Let's Pretend This Never Happened: A Mostly True Memoir written by blogger turned author Jenny Lawson has been on my wishlist since I opened my Audible account. You might now Lawson as The Bloggess and if you haven't read her blog before goggle her Beyonce post. In her first memoir, Lawson takes listeners on a hilarious ride where she covers everything from her upbringing in rural Texas to her relationship with her husband, Victor.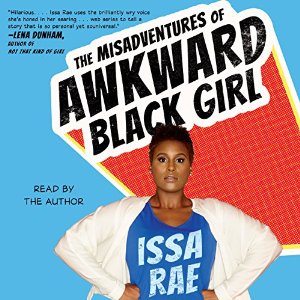 The Misadventures of Awkward Black Girl by Issa Rae: I actually purchased this book in paperback and started reading it but I haven't had a chance to finish it, so I'm tempted to purchase the audiobook because I need to finish it. If you're an introvert and awkward, you'll enjoy readingRae's memoir, as she shares the difficult navigating a world that glorifies cool. The collection of essays covers her experiences cybersexing in the early days of the internet, the horror of eating out alone, and learning to accept your awkward self. .
Have you read a funny book lately? Is it on Audible? Leave your suggestions in the comments. Don't forget to sign up for your free Audible Trial.