This past Friday Mr. S had the day off from work, so I planned a family day for the three of us. One of the things on the list was to take Sesame shopping. While he doesn't seem to be getting much thicker, he's definitely getting taller and I like to be prepared with the next size up for growth spurts. We typically shop at Old Navy online for his clothes because it's easier for us to sit down together in the evenings and pick out things on the computer together. Plus, we can shop for ourselves at the same time and get a box full of clothes for the whole family. This time we went in the store and I was excited to see that the in-store selection was comparable to the online one. Sometimes I find shopping in the store frustrating because things can be cluttered especially during a sale, but everything was neat and easy to find despite the fact that they their Kids & Baby Sale is currently taking place.
I would say about 75% of Sesame's wardrobe comes from Old Navy and if it's something we paid for it's closer to 90%. Old Navy not only has a great selection for children's clothes style wise they are also affordable and durable. The Old Navy Kids & Baby Sale in store sale definitely did not disappoint. We were able to find him several cute outfits for the summer and I can't wait to see him in all of his outfits. Overall I believe we purchased four bottoms, four tops, a pullover sweatshirt, and eight pairs of socks without breaking the bank.
I can't wait to see him wear this outfit during our Midwest vacation this summer… (the pants are little long, but if he keeps growing like has has been they will be perfect by July).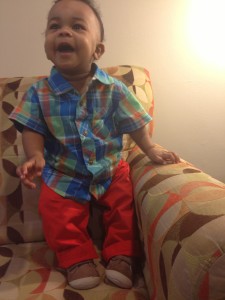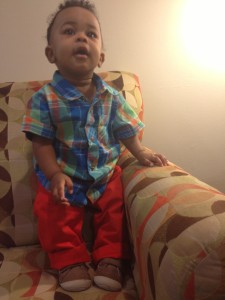 Where do you shop for your little ones? Do you try to shop on a budget or is it all about the look? Make sure you check out Old Navy's Kid & Baby Sale before it ends. They're offering great deals (up to 40% off) both in-store and online until February 20th.
I was selected for this opportunity as a member of Clever Girls Collective, and the content and opinions expressed here are all my own.